My favorite email reminder service, FollowUp.cc (see this blog post), has just added a new tool to their arsenal.

For those not familiar with the service, you send an email to, say, Tuesday@followup.cc, and Tuesday morning, you will receive that email. Jan12@followup.cc would return that email to you on January 12th. This is my "tickler" file. Anything I want to follow up on later gets sent to FollowUp.cc. I use this, for example, to remind me of conference registration deadlines. If early bird registration ends on October 30th, I'll send a FollowUp email to Oct20@followup.cc with the body of the email containing the link to the conference registration page and any other information that I'd like to have later. If someone says that they need two weeks to get back to me, I'll forward that email to 2w@followup.cc. In 2 weeks, that email will appear in my inbox. You can create recurring reminders, and there is Google calendar integration.
FollowUp.cc is one of the tools I use to achieve Inbox Zero.
But I digress.
What I really want to tell you about is FollowUp.cc's new Chrome extension for Gmail.
Composing a new message
After installing the extension and reloading the Gmail webpage, when you compose a new message, you will see the FollowUp.cc toolbar.

Here I clicked "Days" and selected 2, then clicked the "@" symbol, and then clicked on "Time," selecting 6pm. The extension rendered that as 2d-6pm@followup.cc and helpfully added that to the bcc line. Yes, I could have just typed that in myself, but I'm happy to let this extension do it for me. Since this message will be bcc'ed to FollowUp.cc, I can email whomever I'd like. That person gets the message, and in 2 days at 6pm, I will get that same message back as a reminder to do whatever I need to with it.

If you have a specific date you want the reminder for, click the calendar icon and select the date.

Replying to a message

Clicking "Reply +FollowUp" will add 1day@followup.cc to the bcc field. If you want a different day/time, click on an address in the To, cc, or bcc line to get the full toolbar. No need to delete the 1day@followup.cc address; clicking on the toolbar icons will change the address.
If you don't want the default address to be 1day@followup.cc, you can change it by going to the FollowUp.cc menu at the very top of Gmail's screen.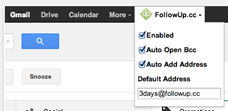 If FollowUp.cc is not at the top of screen…?

This was the problem I ran into. FollowUp.cc technical support (contact@followup.cc; very quick to respond and helpful!) suspects a conflict with another Chrome extension. Here was their excellent suggestion:
Go into Chrome settings, click on Extensions. Scroll to the FollowUp.cc extension, and check the box that says "Allow in incognito." Since most extensions don't operate in incognito mode, this move effectively blocks all other extensions.
Open an incognito window. Click on Settings and select "New incognito window" or use the keyboard shortcut: CTRL+Shift+N.
Open Gmail in the incognito window. The FollowUp.cc option should now appear at the top of your Gmail window. Click on it to change the default address.
Now you can close the incognito window and go back to normal browsing, happy with your default bcc FollowUp.cc address.
Conclusion
There is something very cool about getting emails from your past self at the very moment you need them. The Chrome Gmail extension makes this even easier to pull off.