Did you know that you can 'import' a gmail message into a new Google calendar event? Did you know that what most of us call appointments, Google calls events? "I have an event scheduled with my dentist." That makes it sound way more serious than an annual checkup should sound.
I don't really know what ProjectX is, but it certainly sounds worthy of the "event" designation, however.
Here I've received a message about needing to meet to discuss ProjectX in my gmail account. When I click on the "More" button, I get a dropdown menu where I can select "Create event."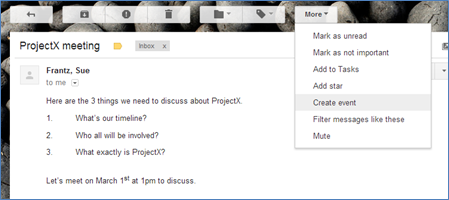 This generates a new Google calendar appointment, where the subject line of the email becomes the subject line of the new event and the body of the message becomes the event description. The time and date default to just minutes from now so I need to manually change those. Google also includes me, the person who sent me the message, and anyone who was also included in the message as guests to the event. If you don't want them as guests, click the "x" to the right of each person's name to delete them.
Click save. Now you have the meeting agenda in your calendar.