I've seen a lot of faculty desktops – both computer desktops and actual desk tops. It seems that for many of you, your approach to organization is to just toss it all on your desktop (or desk top) and hope for the best. And you swear that you'll get both cleaned up over the summer, the same promise you've made to yourself (and the fire marshal) for the last 10 years. I can't help with your desk top – actually I can. Just put it all in the trash and call it good. Really afraid you'll need something that's in that mess? Put it all in a box, date it with a magic marker, and store it above your garage.
Now let's do something about your computer's desktop.
DropIt is a wonderful little organizational tool.
I'm working on fictional ProjectX. The first thing I'm going to do is create a folder for ProjectX in my Dropbox.com folder; of course I could put the folder anywhere.
Here's a ProjectX document that I've saved on my desktop. When I click the document icon and drag it onto the DropIt icon…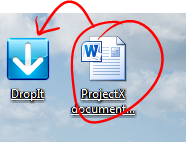 … I get this popup telling me that I haven't set up any rules yet that work for this particular file. I click "Yes," I want to create an "association."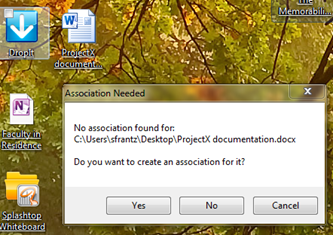 The next popup appears. The "Name" box is the name of the rule (or "association"). It defaults to the name of the file. Here I've just changed it to "ProjectX." The rule is that any filename that contains the word ProjectX will be moved to the ProjectX folder in my Dropbox folder. The asterisks that bracket the word ProjectX mean that this rule will be applied to any filename that contains the word ProjectX. Maybe I just want the files that begin with the word ProjectX to be filed here, in which case I would enter ProjectX* in the "Rules" box. When this screen comes up for you, click on the "i" (for information) to learn what the different possibilities are. Click the funnel icon to add more filters. Maybe I just want this rule applied to files I haven't opened in over 2 weeks, for example. When you're set, click "Save."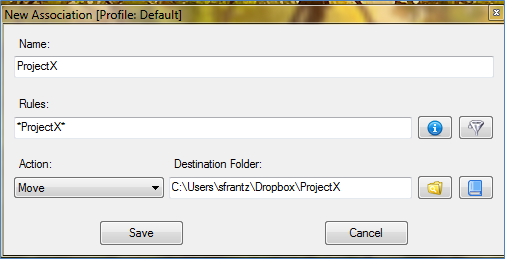 My file has suddenly disappeared from my desktop and is enjoying life in its cozy new folder safely tucked away out of sight.
The next file that contains the word ProjectX that I drag and drop from any folder, not just the desktop, will automatically be filed in that same ProjectX folder I created. Once the rule is created, the file will automatically be moved. You only need to go through the process of creating rules if DropIt doesn't have any rules that apply to the file or folder dropped onto it.
Other actions

While it's the move function that I most appreciate, it's not the only function DropIt has. Click the button under "Action" to see other options, such as renaming, copying, and uploading.
When rules conflict

Here I have one file where I have two rules that could apply. DropIt asks me which one I want and if I want this decision to hold for all files that meet these criteria.
Deleting/editing rules

Clicking on the DropIt icon on the desktop generates another DropIt icon that floats on top of any windows you have open. Right-click on it and select "Associations." You'll see all of the rules you have created. Right-click on any rule to edit, copy, or delete it.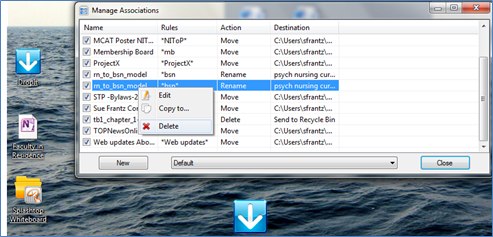 Enough procrastination
Download DropIt. Get the files that you're not currently working on off your desktop and into folders. Don't wait until this summer. Or winter break. Or spring break. Now's a good time. Really.