As more and more people are moving to Gmail, some are missing the spellcheck feature of their former email program. Gmail does have spellcheck, but it's not check-as-you-type.
When you are done composing a message, click the "Check Spelling" link on the new message's toolbar.

For the curious, "Suggest Times to Meet" is a feature of the Boomerang add-on for Gmail. See this blog post for more information on Boomerang.
Spellchecking in browsers.

In most browsers, however, you already have a spellchecker built in.

Spellchecking in Firefox is on by default. It will only work in text boxes that allow you to enter 2 or more lines of text, however.



For Chrome, spellcheck may also already be on. If it is not, go to settings (wrench icon in the top right corner of your browser screen).

Scroll down to the bottom of the page and select "Show advanced settings…".
Scroll down to "Languages" and click the "Languages and spell-checker settings…".

And then check the box next to "Enable spell checking."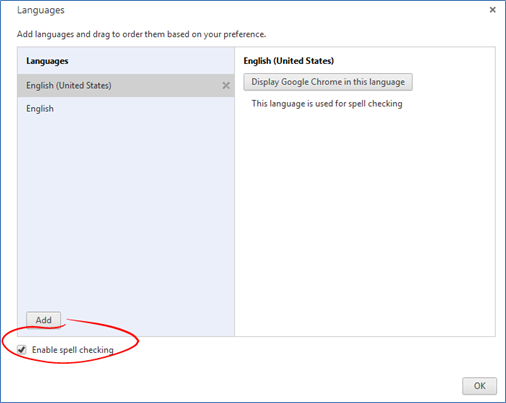 Now when you type in any browser screen, including Gmail, the words not in the browser's dictionary will be underlined in red.

Spellcheck for Internet Explorer (IE).

Unlike Firefox and Chrome, IE does not have a built-in spellchecker. There are free add-ins made by others though that you can try, such as ieSpell and Speckie.