In June I wrote about a new tool, KeyRocket, designed to help you learn keyboard shortcuts for MS Word, Excel, and PowerPoint. KeyRocket now has a version available for those who use Chrome to access Gmail. Did you know that Gmail has keyboard shortcuts? KeyRocket tells you what they are as you use Gmail. Keep reading, you'll see what I mean.
Installing KeyRocket.
Get KeyRocket for Gmail from the Chrome Web Store; it's called "Shortcuts for Gmail."
After it is installed, you will be directed to the settings screen in Gmail. In the "keyboard shortcuts" section of the page, make sure keyboard shortcuts are turned on.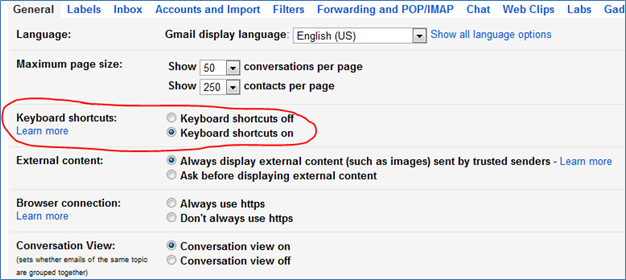 If you manage to exit this screen before making the change, you can get back to it by clicking on the gear icon in the top right corner of your gmail screen.
What KeyRocket does.

Clicking on the "inbox" link in Gmail now produces this popup message in the bottom right corner of the browser window.

The next time you want to go to your inbox, press 'g' followed by 'i'. The '>>' means sequentially, not simultaneously.
Deleting a message produces this popup.

Next time you want to delete a message after reading it, just press the '#' key. The email message will disappear, having been moved to the trash bin, and you will be taken back to where you were before you opened the message.
Clicking the "compose" button to write a new message produces this popup.

Next time you want to write a new message you now know to just press 'c'.
Send an email message in gmail without using the mouse.

Press 'c' to compose a new message. Or press 'r' to reply to a message.
Press 'Tab' to move from 'to:' to 'subject:' to body of message.
When you're ready to send, press 'Tab' again. That moves the cursor up to the 'send' button. Now press 'enter,' and your email is sent. Important: If you press 'tab' and 'enter' simultaneously, your email will be discarded.
Conclusion.

With Gmail's keyboard shortcuts turned on, you can use all of these shortcuts without KeyRocket. KeyRocket just tells you what they are when you engage in actions that have keyboard shortcuts. KeyRocket is your Gmail shortcut tutor.