Since I wrote about Join.me in February 2011, the developers have added some new features. For those who missed that post, Join.me is a desktop sharing application. Run Join.me, and the program generates a URL. Share that URL with whomever you'd like, and they will see your computer's desktop in their web browser.
In the free version of Join.me, you use your computer's microphone to talk with those who are seeing your desktop.  To listen, use headphones, not your computer's speakers. If you use your speakers, it will sound okay to you, but the others who are participating will hear an echo of their voices. The sound from your speakers is picked up by your microphone so anyone who is speaking will hear their voice through their headphones. If you want conference calling over the phone, sign up for Join.me Pro. Or use FreeConference.com. Or Speek.com.
Multiple monitor support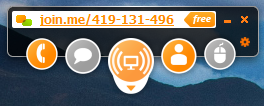 The center icon in the Join.me toolbar has been changed from a pause button to a monitor. Clicking on it still pauses your screen. Let's say you want to do something on your screen without everyone seeing it, pause freezes your screen for everyone who is watching, but you still retain full control.
Clicking the down arrow under the monitor icon is magical if you are running dual monitors. Click on "Switch screen". An orange outline will appear around your screen to show that you are currently sharing, say, monitor 1. Mouse over to your second monitor, and the orange outline will move with you. Click anywhere on that screen to share it. Repeat the process to move back to monitor 1. Okay, maybe it's not magical, but it is pretty cool.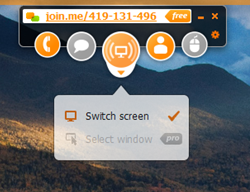 Mobile app (Android/iOS)

Visit Google Play/App Store, to add the free Join.me app to your smartphone or tablet. Run the app, and enter the 9-digit code (hyphens are added automatically). If you view someone's screen from the app, you join the audio as a conference call via a phone number and access code (pro version is not required). The other limitation is that you do not have the option to control the computer screen you're viewing. You can only look, not touch.
Teaching tip

I have an engineering colleague who teaches in a computer classroom where each student station has dual monitors. During class, the professor runs Join.me, and his students watch his screen in the web browser via Join.me on one monitor while they do the same steps on the other monitor.
How are you using Join.me?