Like having different wallpapers for your desktop? I have 110 different images that change every 15 minutes on both my work and personal laptops. (You're right. This has nothing to do with teaching. But it is fun.)
Here's one.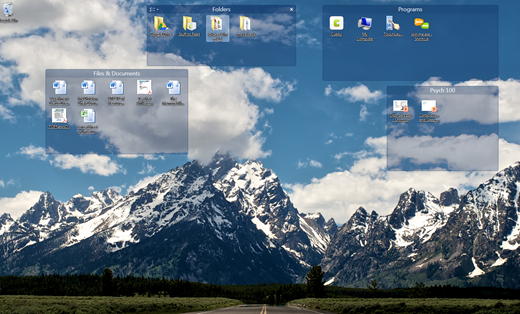 How to do it

Create an account at Desktoppr. During the registration process give Desktoppr permission to access your Dropbox.com account. (Don't have a Dropbox account yet? Sign up here.) Desktoppr will add an "Apps" folder to Dropbox if you don't already have one. Inside of that folder it will add another folder called "Desktoppr" where it will sync the wallpapers you select.
I filter by "most downloaded first". For the wallpapers you want displayed on your computer, click the cloud icon under the image. Here you can see that the wallpapers with white clouds are ones I've chosen.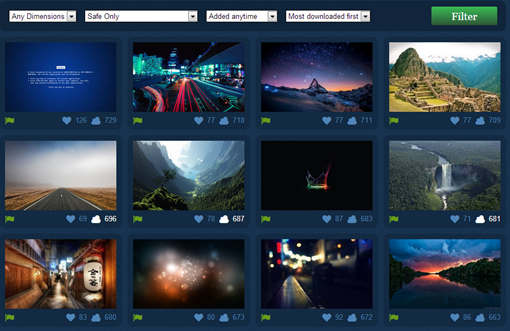 The images you select will automatically be downloaded, via Dropbox, to your computer.
Displaying the wallpapers

Now that the images are on your computer, you need to tell your computer where those images are and to display them as wallpaper.
In Windows 7, right click on your desktop and at the bottom of the menu, select "Personalize". Alternatively, go to Control Panel – > Personalization. (Mac users, see instructions here. I'm guessing that step 4 is where you'd choose the Desktoppr folder.)
At the bottom of the screen, select "Desktop Background".
Click "browse". Navigate to your Dropbox folder -> Apps -> Desktoppr. Next, decide how often you'd like the wallpaper image to change.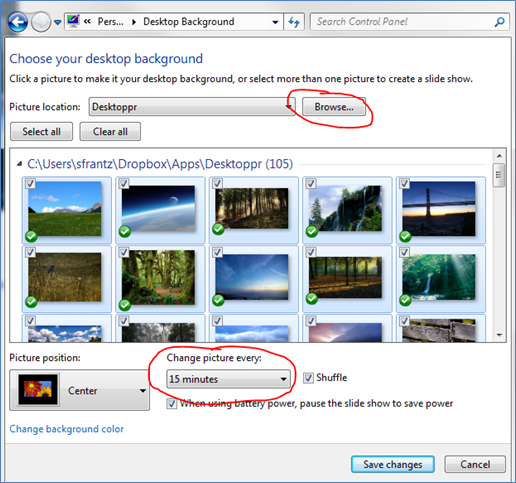 Changing wallpaper manually

While I have my wallpapers set to change every 15 minutes, I might not be in the mood for the one that is currently displaying. When I right-click on my desktop, I get this pop-up menu. About 2/3 of the way down, I can click on "Next desktop background" to cycle to the next one in the queue.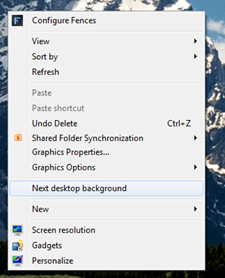 Deleting wallpapers

Go into your Desktoppr folder in Dropbox and delete the wallpapers you don't want.
Adding wallpapers to Desktoppr

If you'd like to make your own images (where you own the copyright) available to other Desktoppr users, save your images in your Dropbox -> Apps -> Desktoppr folder. That's it. If you decide you don't want everyone to be able to use them, you will need to contact the good folks at Desktoppr and make that request.