Years ago you created a Dropbox account and installed Dropbox on your home computer, your work computer, your personal laptop, and maybe even a work laptop. It was, and is, a great way to access all of your files wherever you may be. Do you remember when you used to email files to yourself? Or tried to remember whether the newest version of a file was on your home computer, your work computer, or a flashdrive – wherever you might have left that flashdrive, whichever flashdrive it was? Dropbox has even more powerful functionality with Microsoft integration. You can now edit documents with others, live, via Dropbox.com. But that's not what this post is about.
Not only did you find Dropbox useful for storing your work files, you found it useful for storing your personal files. But do you really want your vacation photos on your work computer? One issue I've seen with those non-work photos on a work computer is that many work computers are backed up to an institutional or company server. Even if the photos are Rated G, they are taking up tons of space on servers that don't have a ton of space. It's one thing if those photos are work-related. It's another thing if they are not. Or, less ethically troublesome, maybe you just have some folders that contain files that you don't really need anymore. You'd like to keep them as an archive, but they don't need to take up space on your computer's hard drive.
Let's separate the Dropbox folders you don't need on your work computer from the folders you do need using "selective sync".
Selective sync lets you tell Dropbox which folders you want to sync with a particular computer. To choose which Dropbox folders you want synced on your work computer, from your work computer click on the Dropbox icon in your system tray. Click on the gear icon, & select "Preferences".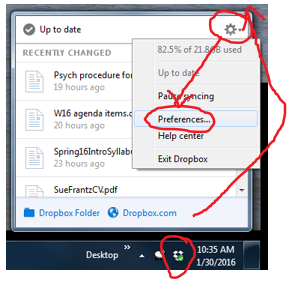 In the Dropbox Preferences window, select "Account". Click on "Selective Sync…" The popup will show you all of your Dropbox folders. Leave checked the ones you want to sync to this computer; uncheck the ones you want removed. Click "Update" and "OK".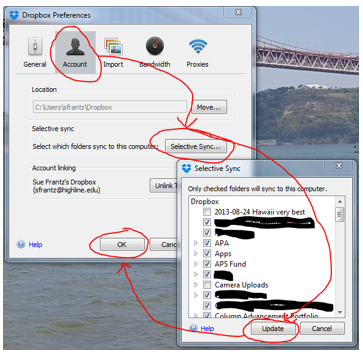 Dropbox will delete the unchecked folders from your work computer, but they will still exist at Dropbox.com. I promise. Those unchecked folders will also still sync with any other computers you have. If you want to remove, say, 2009 committee minutes from your home computer, repeat this process from your home computer.
You can always resync those folders by going back into preferences, and checking the folders you want to sync to that computer.
You're not doing anything else this evening. Take the opportunity to free up some space on your computer disk drives.