Want to receive text messages on all of your web-enabled devices? If you have an Android phone, install ZipWhip (free) on your smartphone, laptop, desktop, and Android tablet. Any time you get a text message, the message will appear on all of your devices. When I'm working at my computer, like now, my phone is who-knows-where. But when a text message comes in, I will get a pop-up on my computer screen showing me the text. It doesn't matter on which device I read the text, ZipWhip will mark it read on all of my other devices. I can even reply from my computer. It is much easier to type a message on a full keyboard than it is on my phone's keyboard. For new text messages, I can send them now or schedule them to go out at some future time. ZipWhip will tell me when I have a call coming in on my phone and the number that's calling. If it's from a number that's in my contacts, ZipWhip will tell me who it is.
If you connect to the internet when you fly, you can receive and send text messages via ZipWhip. Gogo is launching a "Talk & Text" app for both iPhone and Android devices that will allow you to send and receive texts and phone calls although it's unlikely that the talking half of the service will exist on U.S. domestic flights. I certainly don't want that – not because I don't want to talk to my wife, but because I don't want to listen to you talk to yours – the support that I can give to your relationship has limits. The pricing on this app is still a mystery as of this writing, but it probably won't be free. If you're buying internet access for your laptop or tablet anyway, might as well text using ZipWhip.
How it works

After installing ZipWhip and launching the application, the ZipWhip webapp will open in your web browser. The interface is ridiculously easy to navigate. On the left are the numbers from which I have received texts or phone calls. On the right are the text messages/phone calls I've received or dialed. If I want to reply to a text, I mouse over the text, which I have done with the second text, and click "Reply." Clicking the arrow will let me forward it. The trash can will delete it. Since ZipWhip synchronizes with my phone, anything I delete here will also be deleted on my phone.
Click "New Text" to send a new text. Click the down area to the right of "New Text" to access the scheduling option.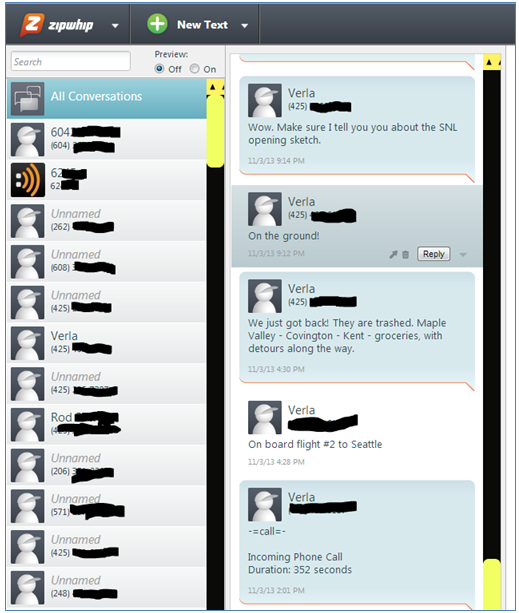 Arriving text

Text messages appear in a bright orange box in the top right corner of my computer screen, and then slowly fade.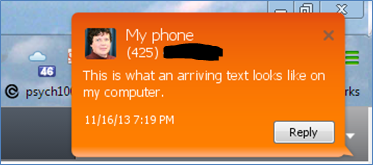 Privacy mode

If you don't want messages appearing on your screen because you're presenting in class from your personal laptop – or perhaps you are giving a talk on technology to a large group of workshop participants, right-click on the orange ZipWhip "Z" icon in your system tray (bottom right corner of your computer screen). Click on "Privacy Mode." The orange "Z" icon in your system tray will turn half gray and half orange, making it easy for you to confirm that no embarrassing text messages will appear unbidden.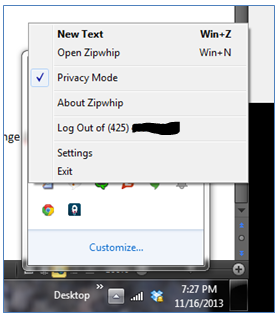 Settings

Back on the ZipWhip webpage, click "ZipWhip" in the top left corner of the screen and select "Settings." In the popup window, click the messaging tab.
My new-message volume is set to zero. The bright orange box is enough notification for me; I don't need sound, too. I don't include a signature with my text messages; I type everything I want to say.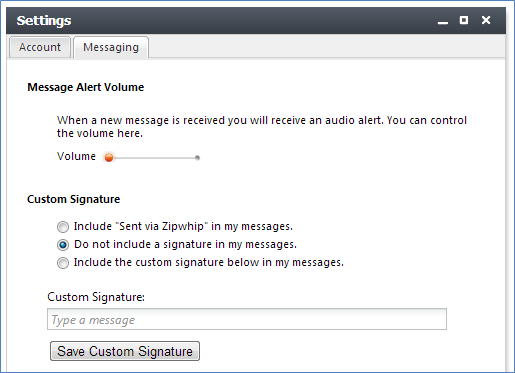 Conclusion

Not bad for free, right? Now, if you're willing to pony up $19.95 per month, you can receive text messages sent to your landline. Students could text you at your office phone number; their texts would appear on your computer screen and all of the rest of your connected devices. If you like that idea and are willing to put a little effort into setting it up, check out Cel.ly, a free text messaging service (see this blog post).