You like to show the occasional video in your class. Your favorite ones are online. And sometimes, just often enough, your classroom loses its internet connection. Or maybe one too many of your favorite videos have suddenly disappeared from the internet. To be on the safe side, you want to download the video to your own computer or flash drive so you can show it without needing internet access.
KeepVid is the tool for you. Visit the website, enter the web address for the video, and click "Download."

When this service runs, your browser will warn you that you may be doing something dangerous. Assure it that you're not. A list of file format options will appear. Pick the one you'd like. Your options will vary a bit depending on the nature of the video you're downloading.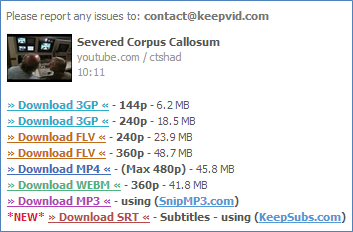 If you choose a file format that's not compatible with, say, PowerPoint, use CloudConvert (see this post) to transform the video into a compatible file format. Which ones are compatible with PowerPoint? MP4 is fine depending on the software you have installed – specifically Apple's QuickTime. I'd go with MP4. If it works on the computer you'll be presenting on, great! If not, use CloudConvert to change the MP4 file to something safe, like WMV. (Mac users: MP4 should work with Keynote.)
Why would I choose MP3?

If you want just the audio from the video, select this option.

What's SRT?

This is a file format used with subtitles. If your video is subtitled, this option will download the subtitles.
I chose "Download SRT" with a subtitled video of an Obama/Romney 2012 debate. This is what it looks like when I open the file in Word.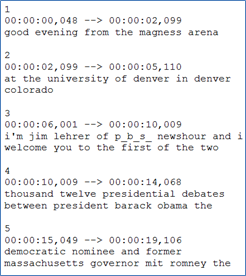 This is essentially reverse engineering how subtitles are added to video. You can use software to create subtitles just like this and merge the subtitles with the video. KeepVid lets you pull out the SRT subtitle file.
Add the bookmarklet to your browser.

On the KeepVid page, click on the box on the right and drag it up to your browser's bookmarks toolbar.

When you're on a webpage watching a video, and you decide you'd like to download it, just click the "KeepVid" link in your bookmark's toolbar, and you will be redirected to the KeepVid homepage. The URL for the video will already be entered in the box. Just click "Download."
Easy, right?