In the years before the Internet, at the first college I worked at as faculty, the library had a table of contents service. You could tell them what journals you were interested in, and when a new print copy of the journal arrived, they would photocopy the table of contents and drop it into intracampus mail to you. If there were articles you wanted, you could highlight them on the table of contents copy and send it back to the library. The awesome library staff would photocopy the articles and send them to you, again, through intracampus mail. It was a fantastic service. And it all seems so quaint now.
Library databases now come with an automated service that does the same thing. You can get an alert when new content in your favorite journals is published or you can get an alert based on a search term where the results can come from multiple sources. The alert can come to you through email or by RSS feed, whichever you prefer. (Read more about my favorite feed reader, Inoreader, in this 2018 blog post.) If you'd like to set up alerts through your library's database, talk with your friendly neighborhood librarian. They'll have you up and running in no time.
If you would like to cast a wider net than the journals listed in your library's database, consider using the free service offered by JournalTOCs. "JournalTOCs is the biggest searchable collection of scholarly journal Tables of Contents (TOCs). It contains articles' metadata of TOCs for over 32,418 journals directly collected from over 3333 publishers." The metadata is information about an article that the publisher attaches to it. Most commonly they attach bibliographic information, but many publishers also include abstracts.
Just like your library's databases, you can create an alert for table of contents when new issues of your favorite journals are published, or you can create an alert based on a search term. Again, also like your library's databases, you can get your alerts via email or via RSS feed.
Using JournalTOCs

Start by creating a JournalTOCs account.
Next, enter your search term. If you want to be alerted when a new table of contents is available for particular journals, search for journal titles under the Journals tab. If you want to be alerted every time an article about, say, the HEXACO model of personality is published, search for that term under the Articles tab.

Under journals I searched for Social Psychology. I've ticked the boxes for the journals whose table of contents I want to see when a new issue is published.

Now let's set up the alerts. In the top right corner, mouse over your username, and select Followed Journals. At the bottom of your list of followed journals, tick the box for email alerts. Or if you'd rather get the RSS feed, click the Save & Export link to download the opml file. If you're not sure what to do with the file, click the question mark next to Save & Export for some guidance.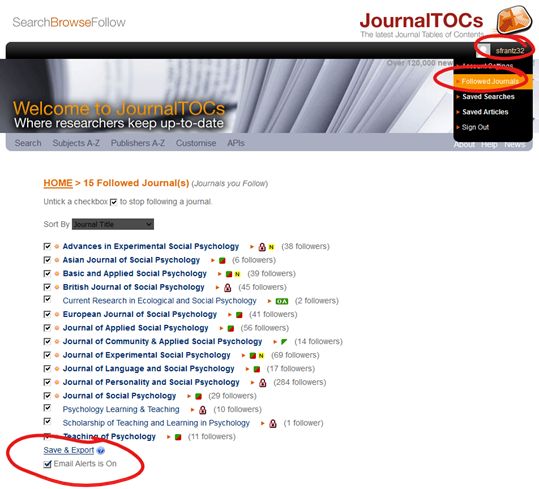 Saving an article search is a little less intuitive. From the Articles tab on the home page, search for whatever you'd like. For each search you do, JournalTOCs is holding onto it.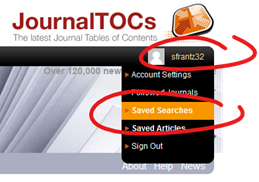 When you're ready to set up article alerts, mouse over your username in the top right corner, and select Saved Searches. Here you will see your searches for journals and articles. I want article alerts for HEXACO, so I'm going to click Save next to it.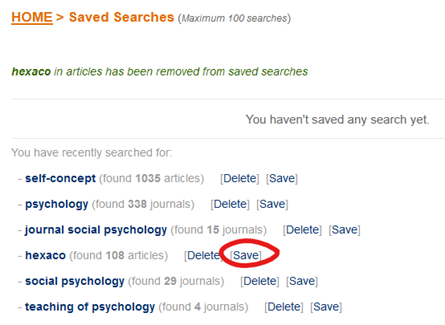 Now that it's saved, I click on Alert-me, and JournalTOCs will send me an email whenever HEXACO appears in a newly published article in one of the nearly 33,000 journals they are tracking. If I want to get this information in my feed reader, I'd click on the little orange icon next to Alert-me.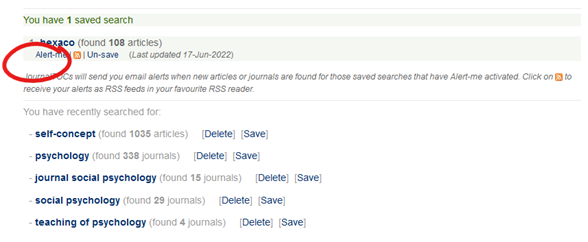 What an alert looks like in a feed reader

Two days ago, the European Journal of Social Psychology published a new issue. JournalTOCs dropped the table of contents into my feed reader. The first item is Issue Information. Clicking on it takes me to the publisher's page for the issue. The next item is an article listed in this issue's table of contents. JournalTOCs gave me the article title, the journal name, the authors, and the abstract. Scrolling down on this page will show me the rest of the articles in this issue.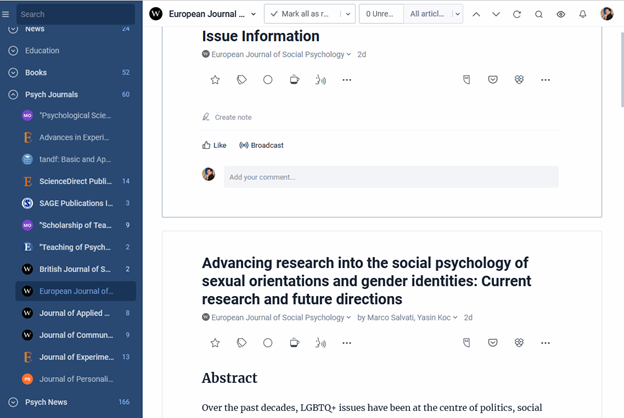 That's it!

Choose whatever journals you'd like. Choose whatever search terms you'd like. If you change your mind, come back to JournalTOCs, mouse over your name, click on your saved searches and edit away.