I've been a big proponent of Google calendar as a personal calendar clearinghouse, and I'm also a fan of Doodle for finding a time when everyone can get together for a meeting. While you can enter all of your free times in by hand when creating your Doodle poll, you can also let Doodle pull in your Google calendar and identify the free times for you.
Go to Doodle.com. At the bottom of the page, click "Google Calendar."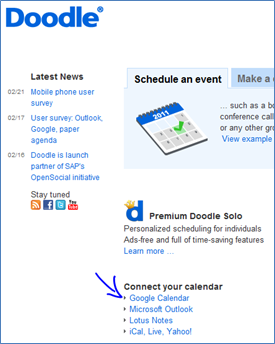 On the next page, click "Connect with Google."

Doodle will ask you to log in. If you don't already have a Doodle.com account (free), you'll need to register for one.
Your Doodle.com settings page will appear. Click "Connect new Google account."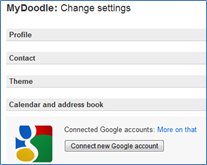 Google will let you know that Doodle is asking for permission to access your calendar. Give it permission. Doodle will confirm that your Doodle account is connected to your Google account. That means that when you're logged into Doodle and are scheduling a new event, Doodle will automatically access your Google calendar.
Go back to the main Doodle page and select "Schedule an Event" as you normally do. In step 1, you title your event and provide a description. In step 2, your Google calendar will load. Make sure the time zone is correct. Check which calendars you want to see. Here I've only checked my primary "Sue Frantz" calendar.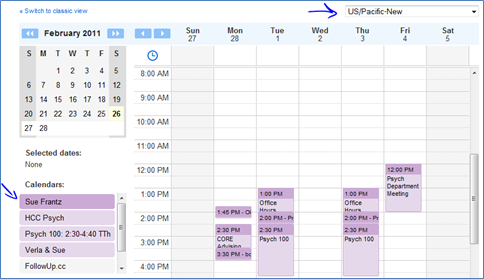 Now that you can easily see when you're free, click on the times you want. Everything in blue is a time I've designated as a possibility for my meeting. You can see them in list view on the far left.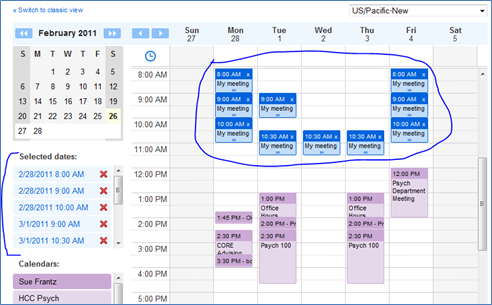 Navigate through the remaining steps as you normally would. That's it.
Doodle does NOT change your Google calendar. All it is doing is bringing up Google calendar so you can see when you're free and lets you choose times.
Share calendars

One more tip while I have you thinking about Doodle. If there are people with whom you frequently schedule meetings, you can all share your free/busy times with each other through Doodle.
Next to your email address in the top right corner of any Doodle page, click "Manage Account." Then click "Share calendars."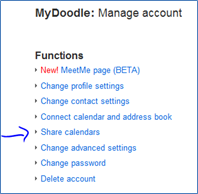 Put in the email address of the person you want to see your free/busy times and check the box(es) for the calendar(s) you wish to share. Important: The people you are sharing with must have a Doodle account; check with them to see which email address they use to log in to Doodle.
Of course is you are at an institution that uses Outlook, you already have built-in access to everyone's free/busy times. If you're working with people at different institutions on a long-term project, this kind of access could be a real time saver.

Happy Doodling with Google!