So now you're using an RSS feed reader, such as Feedly, to keep up with what's new, right? (If not, see this blog post.) SubToMe is a browser tool that will make subscribing to new feeds a breeze. With a few mouse clicks, you can start getting content sent to you from your new source.
On the SubToMe webpage, click on "Settings".

There are two ways you can use SubToMe to subscribe to a new feed. 1.) Drag the "Subscribe" button to your browser's bookmark bar. Any time you want to start getting content from a site you're visiting, click the button in your bookmark bar.

Or 2.) Install the SubToMe browser extension. For Chrome, I visited the Chrome Store, and searched for SubToMe. Once installed, the green SubToMe icon appears next to the rest of my browser extensions in the top right corner of my browser. (Go directly to the extension in the Chrome Store.) To add a new feed from the webpage I'm visiting, I just click the icon.

Connecting SubToMe to your RSS reader

On the settings page, click on "suggested apps".

Here are the RSS readers they support (as of this writing). Since I just use Feedly, I clicked "Install" to, well, install it.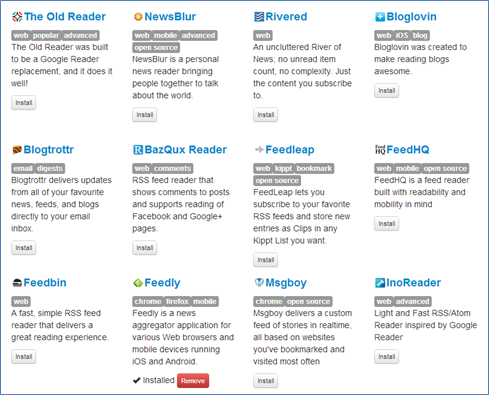 Ready to roll!

That's it. To subscribe to a site – such as this one, just to pick one at random – click the SubToMe button. You'll see this little popup. Click "Feedly" – or whatever RSS feed reader you chose.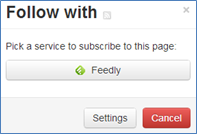 Your RSS feed reader will load giving you a preview of what the feed will look like. If you want to subscribe, in Feedly's case, click "+add to my feedly".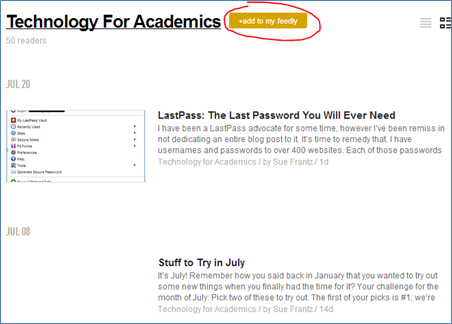 Feedly then asks where you'd like to put the new feed. Click the appropriate box or boxes – or create a new category. Click the "Add" button at the bottom.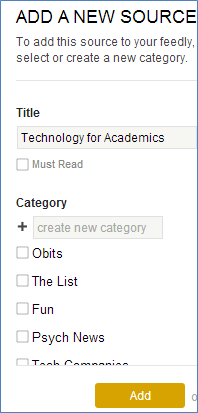 Done!

Remember, your RSS feed reader, e.g., Feedly, is creating a personalized newspaper for you. Just like any other newspaper, don't feel compelled to read everything. Some of my categories have content that are weeks old. I'll read the newest content, and then for the rest "mark as read."