As many of you know, I've been a fan of Delicious social bookmarks for quite a while. (See this post from two years ago.) Its future came into question recently when Yahoo, who bought Delicious in 2004, decided to yank the staff it had devoted to it. The blogosphere exploded with the suggestions for other social bookmarking sites. I had tried some of those sites before, others I hadn't heard of. After dancing amongst them, I decided that Delicious was the best choice for me, so I decided to ride it out and see what happened.
Imagine my pleasant surprise when I received this email last night: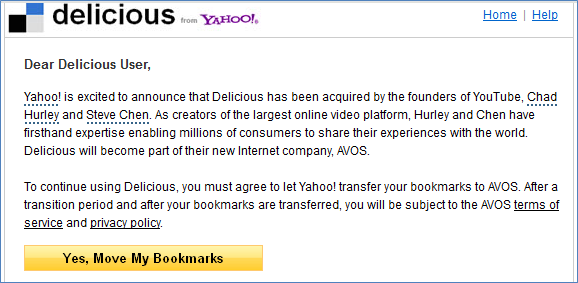 I followed the link and gave my permission. If you have Delicious bookmarks, you have until July 2011 to give your permission, otherwise you lose access to your account.
Yahoo didn't do much with Delicious after its purchase in 2004, so I'm very interested in seeing when AVOS' plans are for what is already a rich tool.