Since I posted about Dot cards a couple weeks ago, they've added a new feature called dot.Exchange. If you're not already familiar with Dot cards, please read that previous blog post first. The rest of this will make much more sense.
After you tap your Dot card on the back of someone's phone, and they launch their phone's browser to view your Dot card profile page, they'll see this double-arrow button.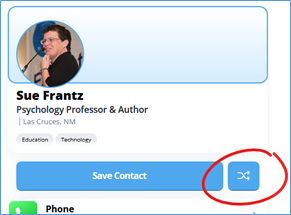 Tapping the double-arrow button generates this pop-up. Your new friend can enter their contact information. When they press the Exchange button, they'll be asked if they want Dot cards to use their phone's gps to add a location.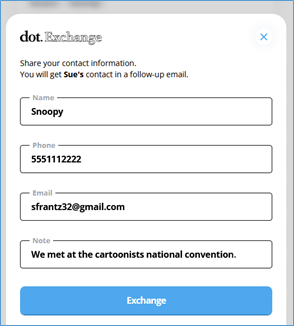 This is the email Dot card immediately sent me.
Everyone who adds their contact information this way will be added to my Dot card contacts.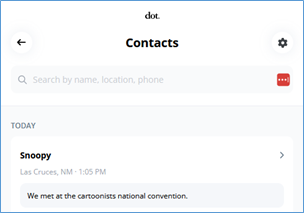 Clicking on Snoopy in my Dot card contacts gives me Snoopy's contact info along with ways to contact him, the ability to set up a follow up reminder, and the option add a personal note (perhaps describing Snoopy as a kid with a big nose).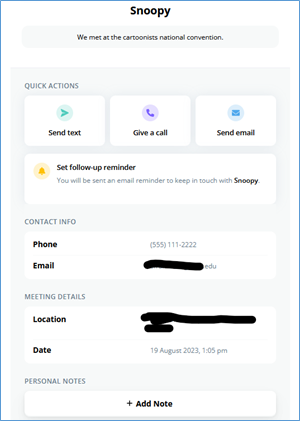 Saving Snoopy's contact info in my Google contacts was pretty simple. From my phone, I tapped on the 3-dot menu icon and selected Download. When I opened the downloaded file, my phone showed me Snoopy's information with an Import button at the bottom of the screen. I clicked Import, and my phone asked me where I wanted to import it. My Google account—where all of my contacts are stored—was an option.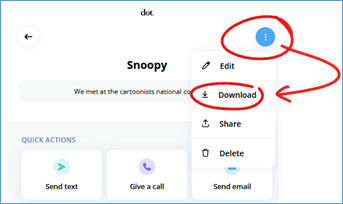 Snoopy also got an email from Dot card. For Snoopy's email address, I entered my college address. My college sent it to junk mail, so I had to fish it out of there. I don't know if the filter grabbed it because the message came from Dot card or because Snoopy was in the message. Your mileage may vary.
Snoopy's email message included the means to download my contact information, the same buttons I got for texting, calling, and emailing. Snoopy also got a button for viewing my profile again.
One last note about this new dot.Exchange feature. On your Dot card contacts page, in the top right corner is a gear icon. There are three settings option. The first and last are turned on by default. If you turn on Quick Capture Mode, as soon as your new friend opens their phone's browser, the form where they can enter their contact information immediately comes up. New friends may be hesitant to enter their contact information ("Where is this going?!") before they even see yours. I'm going to leave Quick Capture Mode off. I'm okay with my new friends seeing (and saving) all of my information first, and then I can suggest they click the double-arrow button to share their information with me.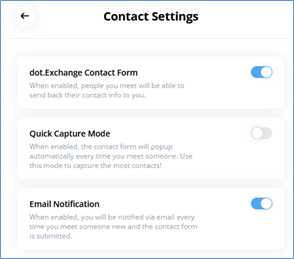 The next time you see me at a conference, hold up your Dot card, and we'll exchange info. Don't have a Dot card, yet? Order one here for a one-time cost of $20.