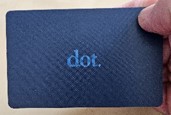 Are you ready to stop carrying around business cards? Or, perhaps more accurately, are you ready to stop forgetting your business cards at home?
I just got back from the American Psychological Association's 2023 convention where I made liberal use of my business card replacement. A Dot card is the size and thickness of a credit card and has a one-time cost of $20.
When you want someone to have your contact information, you place your Dot card against the back of the other person's unlocked phone. If their phone is NFC-compatible and if NFC is enabled, a pop-up will appear on their phone. (On iPhones, the NFC scanner is near the camera; on Android, it's near the center of the phone.) If the pop-up doesn't appear, flip your Dot card over, and they can use their phone's camera to scan your card's QR code.
When the person taps the pop-up, their phone will ask if they want to open the link using their browser. Yes, yes they do. That link will open your customizable Dot card profile page. You can add, remove, or change information on your profile page whenever you would like.
Here is the top part of what people see when I tap my Dot card on the back of their phone or if they scan my Dot card's QR code.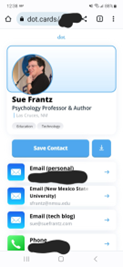 In addition to my email addresses and phone number, my Dot card profile also includes links to my Intro Psych textbook, the Teaching Psychology book I co-authored with Doug Bernstein and Steve Chew, my Macmillan Communities teaching psychology blog, and this Technology for Academics blog. Oh, and my Venmo info.
The recipient can save this information to their phone's contacts by tapping the Save Contact button. If all of the information does not come in, then they can look for your dot card profile web address under your entry in their contacts.
I use my Dot card for personal and professional contacts. If I wanted a Dot card that I could use with students, I would order a second card and that would allow me to create a second Dot profile page that would contain information more appropriate for my students.
Dot also makes stickers that you can affix to the back of your phone. Those only work when the other person has an NFC-enabled phone, though. The advantage of the card is that it includes a QR code on the back as a back-up. At this most recent convention, I did encounter a few phones where we had to use the QR code.
Updated Saturday, August 19, 2023: See this blog post on a new Dot card feature called dot.Exchange.
Special shout out to Garth Neufeld for introducing me to Dot cards!