Zoom has released a new manual update. You can get it from their download center.
There's not much here that is especially exciting for instructors. Here are a few highlights. If you'd like the full list, visit Zoom's release notes page.
Hand gestures

We can now quickly turn on/turn off gesture recognition. Click the new up arrow next to Reactions to toggle "Recognize hand gestures." This is a welcome addition for those of you who have discovered that you wave your arms a lot when speaking.

Apply video filters to future meetings

Want to be a pirate by default when joining all future meetings? Apply the video filter, and check the box next to "Apply to all future meetings."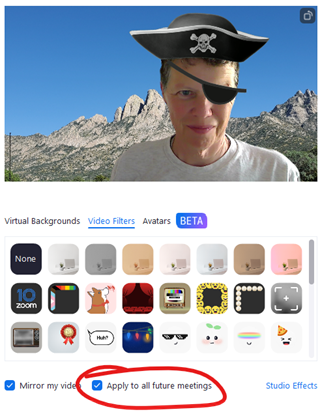 I can't imagine this is a good idea, but you do you.
Breakout rooms

The release notes dated June 20, 2022 say that breakout rooms should now be searchable by participant name or by name of room. This change did not seem to make it into version 5.11.0. Or if it's there, I don't know how to use it.