I've written before about polling options like Socrative and Plickers. ParticiPoll is for those who like to have polls embedded in PowerPoint (works in Office 2010 and higher for Windows; Office 2016 for Mac as of 9/30/2016) but don't like the cumbersomeness or participant limitations of PollEverywhere.
During your presentation, your participants will use a designated URL to access the polling buttons through any web-enabled device they have, such as a laptop, tablet, or smartphone.
NOTE: ParticiPoll has moved to a pay model. As of March 5, 2020, the lowest plan is $199/year for an individual presenter.
With ParticiPoll, you download and install the PowerPoint add-in to your computer. If you don't have the ability to add software to the computer you use in your classroom and your IT staff won't install it, ParticiPoll provides a work-around that you need to do each time you want to use it.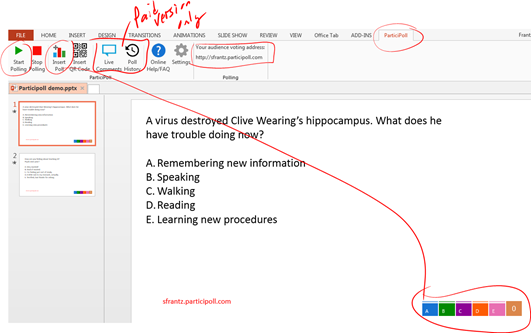 When you sign up for a free ParticiPoll account, you will be asked to create the URL your participants will visit. I chose sfrantz, so the URL my participants use is sfrantz.participoll.com.
Since ParticiPoll is a PowerPoint add-in, everything you need to use it is in PowerPoint. Open your presentation and create your question just like you add any other content. In this case I used text boxes. With a question created, you're ready to add the magic.
Select the ParticiPoll tab. Click "Insert Poll" to add the polling graph to the slide. You will be asked how many answer choices you want; you can have up to six (A-F). The graph will appear at the bottom right corner of the slide by default. You can change its location by selecting all of the graph elements and moving them wherever you'd like. ParticiPoll does not recommend resizing them though; unpredictable things can happen when the votes come in.
Click "Start Polling" to activate the poll.
Run your slideshow.
What your participants see when they visit your polling URL in their device's web browser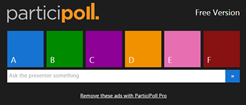 All six answer options will appear as lettered, colorful buttons. The participant just taps or clicks on their answer choice. As long as the question is still open, participants can answer or change their answers.
In the free version, the participants will see ads at the bottom of their screens, although I only saw ads when voting with my mobile device not with my laptop.
Participants will also see a box that encourages them to "Ask the presenter something." If you are using the free version, the box is there and participants can indeed submit something. However, free-version-account-holders can't see what was written. You will get an email from ParticiPoll telling you that something was written, though, for what that is worth.
Showing the results


The graph at the bottom of your slide has a counter on the far right to tell you how many votes have been recorded.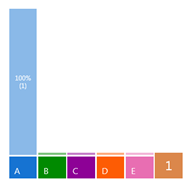 When you are ready to reveal the results, advance your slide. Be patient! It can take a few seconds for the results to appear. The slower your internet connection, the more time it will take for the results to appear. When you advance your slide again, all of the results will disappear. Going back to the slide will reveal a reset poll, and your participants will have to re-vote.
How many poll questions and how many participants?

You can have as many poll questions as you would like. Since it's essentially the same poll interface over and over again, it doesn't matter to ParticiPoll how many questions you ask. The only limitation is that each poll question needs to be on its own PowerPoint slide.
The number of participants is also unlimited. This is welcome news for those of you with large classes.
What does the paid service get me?

ParticiPoll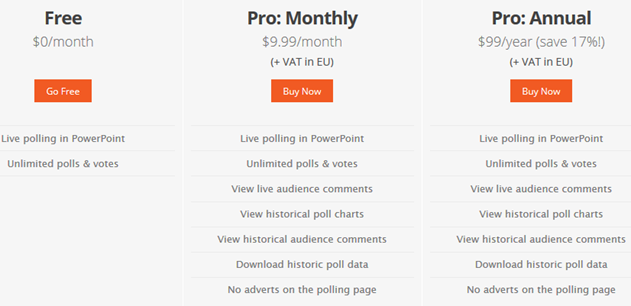 does have a referral program. After creating an account and logging in, visit their "refer" page to get your referral link. When 5 or more people register through your link, you get one year of the pro version for free. Each person who registered gets one month of the pro version free. [Full disclosure: All of the ParticiPoll links in this blog post are my referral link.]