I bet you don't schedule many appointments between 9pm and 8am. Yeah, me neither. Google Calendar now gives you the option to hide those hours, or whatever early/late hours you choose.
To activate the option, go to your Google Calendar, and click on the cog icon in the top right corner. Select "Labs".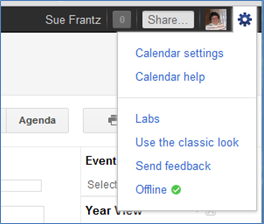 Click "enable" next to the "Hide morning and night" tool.

Click the "Save" button near the top of the page, and you're done.
Go back to your calendar.
On the far left, where the times are listed, some of the times will be shaded. Click and hold the little bar at the bottom to select the morning times you'd like to hide.
Google Calendar will now look like this.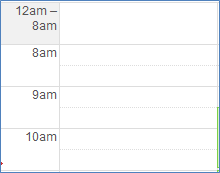 Then scroll down and repeat for the evening times. Done.
Any time you'd like to see those hours, just click on the shaded area in the time column. Click again to hide the hours.
What if you schedule something during those hidden times? Google Calendar will show you.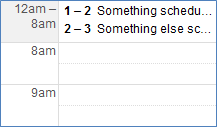 Thanks to the Lifehacker blog for the heads-up on this new tool!