Do you play Jeopardy in class as a test review? Jeopardy Labs makes it easy to create a web-based Jeopardy game.
Here is one created for the "Biological Bases of Behavior" chapter in an Advanced Placement Psych class.
In the opening screen, decide how many teams will be playing. You can choose up to 12.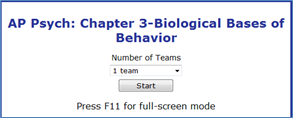 Click "Start" to bring up the board.

Clicking "100" under "The Neuron" produces this question.

Students buzz in by whatever method you'd like. After the team responds, click "Correct Response" to show the correct answer.

At the bottom of the screen, click +/- to add/subtract points to the responding team's score. If it's a 200 point question, click + once, and 200 points will be added to the team's score. If you do not click + or -, the question will remain available on the board. Clicking multiple times will add multiples of the question's value.

Click "Continue" to return to the board where the chosen question has been removed. You can, however, still click on the box to reveal the question. The score can be seen at the bottom of the board.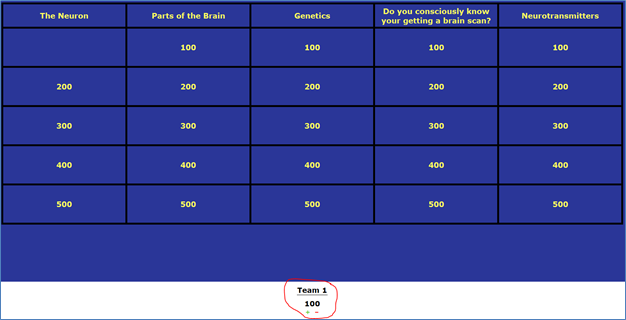 No fancy Double Jeopardy or Final Jeopardy, though.
Building a Jeopardy board is easy. Click in the appropriate boxes to change the title and category names. Click on a numbered box to enter the answers and questions.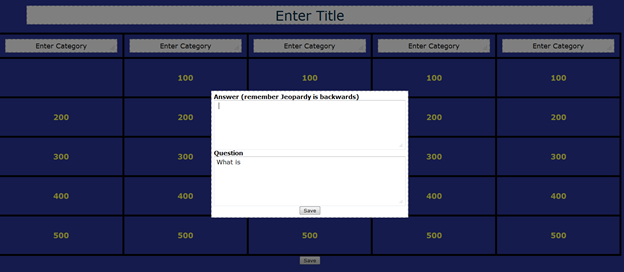 Click save at the bottom of the board when you're done. You'll be redirected to a page that will provide you for the URL for your board. Bookmark it. That's the only way you'll be able to get to it to run the game or edit it, unless you create an account and donate money to the site creator – a worthwhile expense if you intend to make heavy use of the site.