I'm a Firefox user, mostly because of the add-ons. These are my favorites.
Colorful Tabs. I typically have 5-10 tabs open at one time. Having them colorized help me pick them out quickly. The tab I'm currently on is brighter than the others and the page title is bolded. The add-on comes with the ability to customize in many different ways. For example, you can have Colorful Tabs generate colors at random, but you can also specify certain colors for certain domains. For example, my Google Reader tab is always aqua.
Delicious Bookmarks. As a Delicious user I'm frequently bookmarking interesting websites. With this add-on, I can right-click on any page to "bookmark this page in Delicious." Alternatively, CTRL-D does the same thing. CTRL-Shift-Y calls up a dialog box where I can type in a tag. When I hit "OK," I'm taken to my bookmarks that carry that tag. CTRL-B opens a sidebar where I can see all of my tags and all of my bookmarks, complete with a handy search box where I can search either the full text of the bookmarked webpages or just the tags.
Download Helper. This add-on gives me a small icon on the navigation toolbar that is available on websites that contain video. By right-clicking the icon, I can download almost any video file. In this example, you can see that I'm about to download the video from my "Grading Electronically" blog post.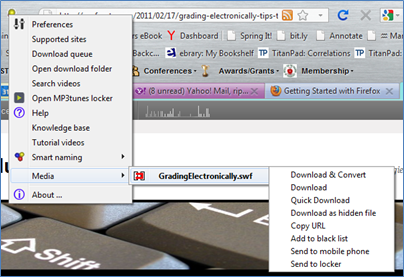 F1 by Mozilla Labs. Quickly share any webpage to Facebook, Twitter, LinkedIn, or by email (gmail or yahoo mail). Click the icon in the top right corner or click F1, to make the entry fields appear. I have mine set up to go to Facebook or be sent from my gmail account or my yahoo mail account.

Google Shortcuts. Add your Google services as icons to the navigation bar. When I click an icon, the related webpage will open in a new browser tab. Here I can access my Google: mail, voice, reader, maps, books, calendar, analytics, URL shortener (goo.gl), web history, Android app inventor, and settings for Google shortcuts where I can add or delete icons.

LastPass. This will generate passwords and save them as well other webform responses, and automatically enter them when I visit the webpage in the future.
New Tab King. When I open a new tab in Firefox, this is what I see. The search box gives me the sites I've visited first before offering to search the web for me. Below are the thumbnails for the 9 most-visited websites, each is an active weblink. By mousing over a thumbnail, as I did in the first one, I can click the thumbtack to pin it in that position. If I don't pin it, the most-visited site will always appear in that position. On the right I have quick access to recently closed tabs, web shortcuts and shortcuts for applications, such as my computer's calculator. Click the cog in the upper right corner to access settings.
QR Link Maker. Right click on any webpage (or image or email address, or phone number), and select "QR code." A QR code will be generated. Right click on the code to copy or save. (See this blog post for more about QR codes.)
If you're a Firefox user, what are your favorite add-ons?