If you have updated Windows 11 recently, you have a new feature that will make your life a little easier. It comes without fanfare and therefore is easy to miss.
File explorer tabs

Open file explorer—that's what you use to see your files and folders. At the very top of your file explorer window, you now have tabs. In this screenshot, you can see that I have one tab open: Dropbox. Clicking the plus sign to the right of that tab will open a new tab.
When I clicked the plus sign to open a new tab, I navigated to my Downloads folder. Dropbox is open in one tab, and Downloads in the other.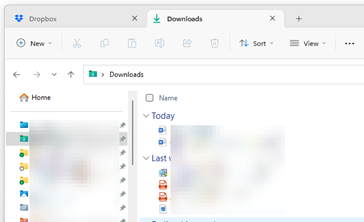 While it's nice to be able to navigate between folders without having to have multiple file explorer windows open, here comes the magic. I can click and drag a file from one tab to another tab. Once I'm over that other tab, I can choose where in that folder I want to move the file.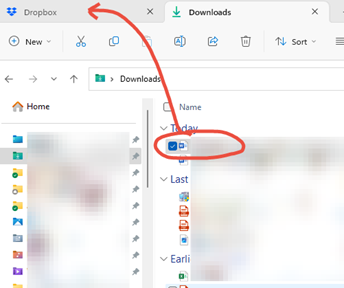 Some of the nicest things in life are the simplest.
Office Tab

If you're a fan of tabs, you might also enjoy having your Word, Excel, or PowerPoint files open as tabs instead of as separate windows.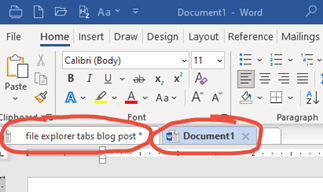 While this feature is not built into Microsoft Office, there is a third party product for Windows that will do this called Office Tab. Download and try it for free for 30 days. After that, it is yours with a one-time purchase price of $39. That comes with two years' worth of updates and tech support. I first wrote about Office Tab in 2011. Have you noticed how technology changes? Office Tab has a bunch of features now—including choosing a color for each tab and creating groups of files that can all be opened with one click. It's probably time for a new blog post dedicated just to Office Tab.