Let's start with the easiest solution.
Browser bookmarks bar

Your web browser bookmarks bar sits directly under the search/web address bar.

If it's not there, turn it on. In Firefox, click the 3-line icon in the top right corner of the window. Click on bookmarks. Select "Show bookmarks bar." To turn it on in Chrome, it's the exact same process, except it's a 3-dot icon, not a 3-line icon.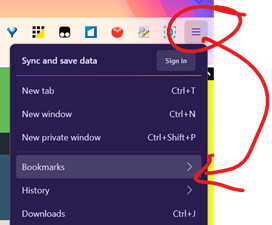 Or, in Firefox, right-click in any empty space to the right of the search/web address bar. Mouse over Bookmarks Toolbar and select Always Show.

To add bookmarks, visit the page you want to bookmark, highlight the url, click and drag to the bookmarks bar. The bookmark will be named whatever the webmaster for that page named it. Whatever it is, it's probably too long or not descriptive enough for you to use. Right-click on your newly added bookmark, and click "edit bookmark" in Firefox or simply "edit" in Chrome. Rename it with whatever works for you.
Folders

Once you've added a bunch of bookmarks, you may exceed the horizontal capacity of your bookmarks bar. You can still access the ones that have fallen off to the right by clicking the double arrow icon on the far right.

Using folders, though, would be better. In my Firefox bookmarks bar, I have two website bookmarks and eight folders.

Clicking on my Psych320 folder, I see that I have three bookmarks there: the first link goes to my Psych 320 main Canvas, the second goes to my Psych 320 new announcement page, and the third goes to my Psych 320 gradebook page. If I click "Open All in Tabs," all three pages will open, each in a new tab.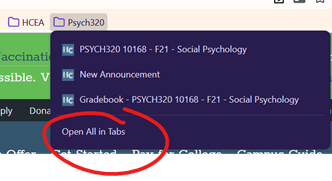 Other bookmarks solutions

With the start.me browser add-in (Firefox and Chrome), all kinds of content can be added to a new browser tab, including bookmarks. With your free start.me account, your start.me content will sync between Firefox and Chrome. Want your new tab content on your mobile device? Add start.me to your Android (search for it in Google Play) or iOS (Apple; instructions here) device.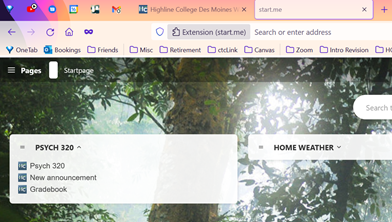 If you'd rather keep all of your bookmarks on a webpage, a bookmark website like https://booky.io/ may be for you.
I'm also a fan of Shortmarks. When I type into my browser search bar the letter h, Highline's homepage appears. When I type w, followed by a search term, the search results from Wikipedia appear. If that sounds useful to you, see instructions here. I've been using Shortmarks for 10 years, and the interface has not changed at all. But then it hasn't needed to. Want help getting it set up? Email me or make an appointment with through the EdTech Bookings site.
Finally, if you are using Phrase Express, you create keyboard shortcuts that will open a webpage.