Is all of that bland text in your LMS starting to get to you? Do you wish you could jazz it up a bit? As far as web browsers are concerned, emojis and Unicode symbols are the same as text.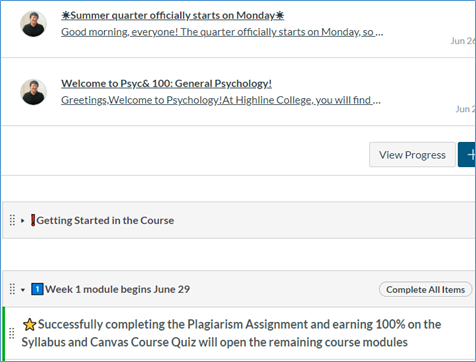 This is module view in one of my Canvas courses. I put suns on either end of an announcement title, a red exclamation point and a blue-boxed 1 in the titles of modules, and a gold star in a text header.
Once you fine Unicode/emojis you like, copy the image. Go to your LMS. Edit the text, and paste the image. Save. Done! Be aware, though, that the image may look different depending on what device or browser your students are using. The graphics I used look much better on the Canvas Android app than they do in Chrome or Firefox, for example.
Here are a few websites to get you started. Yes, these are rabbit holes. Set an alarm if you don't want to spend an entire afternoon here.
List of Unicode symbols: arrows, Greek characters, dingbats, musical symbols, etc.
Emojipedia has a pretty robust search engine that shows what the emojis look like on different platforms; click on an image of a person, and then scroll to the bottom to see the image with different skin tones or as a different gender (woman health worker, for example)
The Unicode.org's emoji list also shows you what the emojis look like when viewed in different platforms