You know you have an awesome product when you launch a Kickstarter campaign hoping to raise $4,000 and, instead, you raise $424,314. Wipebook is a dry erase notebook ($29.99-$34.99). Using Staedtler Lumocolor correctable pens, write on the notebook page (available in blank, lined, grid, and music – or some mix thereof). After a few seconds, the ink will dry enough so as not to smudge. To erase, use the eraser on the correctable pens.  If it's been sitting for a while, I use a lightly dampened towel or tissue. With more elbow grease, a dry towel/tissue works. For ink that's been sitting there for a few weeks, use isopropyl alcohol.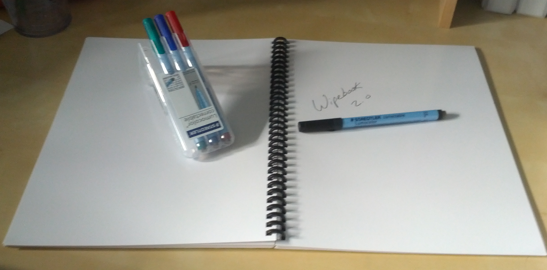 Any notes I want to keep in perpetuity, I scan using the CamScanner app (Android/iPhone/iPad/Windows Phone) which converts the image from my phone or tablet's camera to PDF, and I save the file to, say, Dropbox for easy access.
Wipebook isn't the only player in the dry erase notebook game. Letterforms launched their own Kickstarter campaign hoping to raise $8,000. They raised $107,777. In addition to 8×10 notebooks, it looks like they plan to offer 8×5 and 6×4 versions, too. While not quite ready for production, you can pre-order the 8X10 notebook ($19.99) for an anticipated June delivery. And then there's Writerase who raised over $32,000 in their Kickstarter campaign. They offer 4 sizes ($15-$48): 3×5, 5×8, 8×11, and 11×17. You can order them from the Writerase website.