Using AI to detect AI feels like a little like the start of the robot wars. Yet here we are.
The makers of GPTZero—the ChatGPT/AI detector—have released a Chrome extension (from your Chrome browser, download it here).
Once you have added Origin by GPTZero extension to Chrome, visit any webpage, such as an assignment in your course management system. Highlight the text you want to check for the likelihood the text was written by AI. You need to highlight at least 250 characters.
Right click on the text, and select "Scan text with Origin."
GPTZero's Origin extension will generate a popup that will produce its conclusion.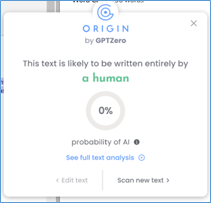 In the bottom right corner of every webpage, you will now see the Origin icon. Instead of using the right-click menu, you can copy the text, click the Origin icon, paste the text into the Origin box, then click "Origin check."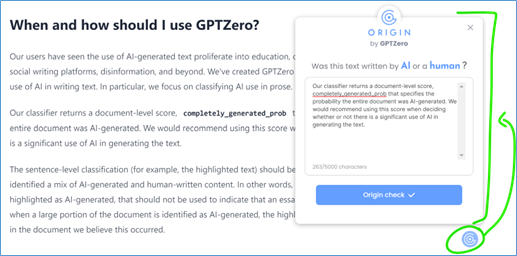 A couple thoughts on student use of AI.
Some instructors are asking students to use ChatGPT to generate answers to questions, and then asking students to critique ChatGPT's answers.
Some instructors are telling students that they will be using tools like GPTZero to evaluate the likelihood that the student's submitted work was AI-generated. Instructors are encouraging students to use GPTZero to evaluate their work before submitting it. If a student did use AI to do their work, the student's challenge is now to rewrite the AI's answer to sound more human. Students may decide that that's more work than doing their own writing from the start.