A couple months ago I wrote about a new tool that just launched. KeyRocket has grown up in that short time. Time for an update.
Ready to learn some keyboard shortcuts for Word, Excel, PowerPoint, and Outlook? Download KeyRocket, and you'll have your own tutorial. As you work, KeyRocket recognizes when you use the toolbar and will suggest a keyboard shortcut to accomplish the same task. (Free for personal and non-commercial use; subscribe for $5/month for tech support and advanced setup with your business.)
[Note: When KeyRocket first launched in beta, free users could only choose one of the four commonly used Microsoft Office tools. Now you don't have to choose; use it with all 4.]
How it works.

After downloading and installing KeyRocket, I just open up my Office program, in this case word, and work like I usually do. If KeyRocket spots a keyboard shortcut it thinks I'm ready for, it will suggest it.
In this case, I clicked on the "start a bulleted list" on the toolbar.

KeyRocket produced this little popup in response, telling me that if I simultaneously press the CTRL key, the SHIFT key, and L, I can start a bulleted list.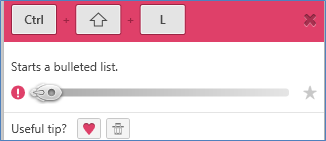 If I use that keyboard shortcut, KeyRocket gives me a wonderful little celebratory message. I can even share it on Twitter if I'd like.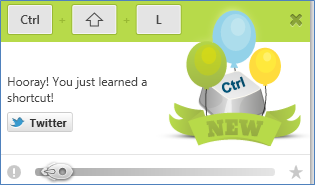 Notice the meter at the bottom of both of those messages. Every time I use the shortcut, the meter advances. After a few uses, all I get is the meter.

After several uses, I earn a gold star!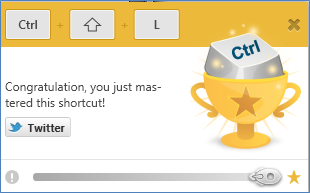 Now when I use the shortcut, I get no more popups. If I forget and use the toolbar, KeyRocket's there to remind me.
While there are 1,600+ keyboard shortcuts possible with Office, KeyRocket doesn't inundate you with all of them at once.
Right click on the KeyRocket icon in the system tray. Select "Shortcut Browser" – or use the keyboard shortcut: WINDOWS + K.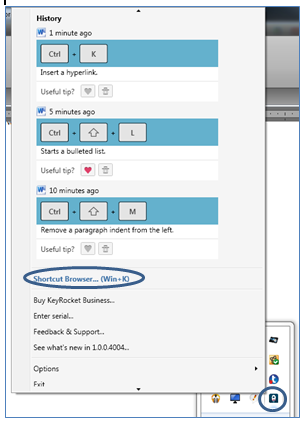 Here I'm looking at the list of some of the shortcuts in Word that KeyRocket thinks would be useful to me. If the "Notify" is set to "On", then KeyRocket will tell me about that keyboard shortcut every time I use the toolbar. If it's set to "Auto" it may or may not tell me about it. I don't know what algorithm it uses to make that decision. Officially KeyRocket says that "Auto" will tell me about the shortcut "only if the shortcut appears to be unknown." If "Notify" is set to "Off", then KeyRocket won't tell me about it.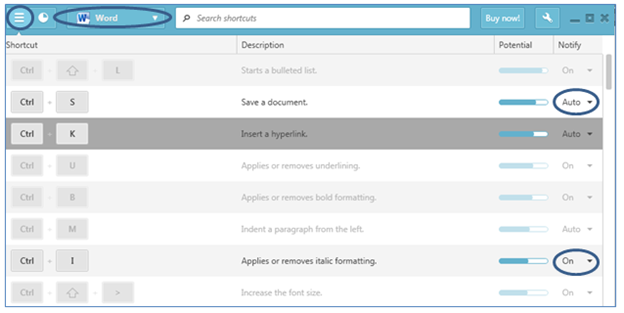 If there is a particular keyboard shortcut I'm looking for, I can search for it, and then change the "Notify" to "On" if I'm ready to learn it by having KeyRocket remind me when I use the toolbar instead.
I have frequently used keyboard shortcuts with Word, but I have discovered that I haven't used that many with Outlook – until now. If you like keyboard shortcuts, try it out.