New data from the Pew Internet and American Life Project finds "63% of all teens say they exchange text messages every day with people in their lives. This far surpasses the frequency with which they pick other forms of dailycommunication, including phone calling by cell phone (39% do that with others every day), face-to-face socializing outside of school (35%), social network site messaging (29%), instant messaging (22%), talking on landlines (19%) and emailing (6%)."
Next quarter I'm trying out SendHub, a group texting service. This will allow me to text all of my students at once. Students can sign up by texting a word I've given them to the phone number SendHub has assigned to me.
In the free version, you can have up to three groups with up to 50 people per group, and send up to 1,000 messages per month. (One text sent to 50 contacts counts as 50 messages.)
To send a message to my students, in the "To:" line I start typing the name of the relevant group, and SendHub gives me everything that matches what I've typed. Then I type my text message. If I'd like to schedule it to be delivered at some later time, I can click "Schedule Delivery." Finally, I click "Send."

To create a group, on the "Contacts" tab, click the "New" button on the left. Type in your group name. If you'd like your students to be able to add themselves to this group via text, check the box next to "Enable Text to Join." Enter a keyword. This is what your students will text to your SendHub number to join the group. The keyword defaults to your group name, but you can change it to whatever you'd like. Don't worry about whether some other SendHub user is using that keyword. Since students are texting to your SendHub phone number, SendHub knows that the student belongs to you.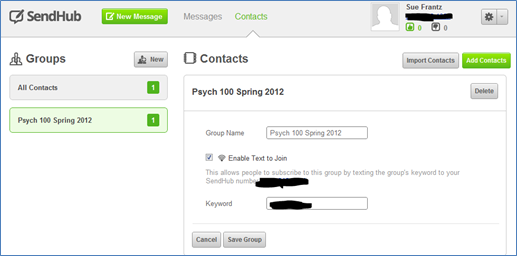 To unsubscribe a student, you can do it by selecting "All Contacts," clicking the checkbox next to the student's name, and selecting "Delete." A student can unsubscribe by replying to any text from your SendHub number with the word "stop."

To access your settings click the cog icon in the top right corner.
In the "Plan" section, track your usage.
If someone calls your SendHub number, the call will be forwarded to the phone number you have on record ("My Number"). If you don't want the call forwarded, check the box next to "Disable voice." Want to add a signature to your texts? Add it in the "Signature" box.
If you send out a text to your class, and a student responds, you will receive the text at the number you have on record. Texts back to you in this way will count against the 1,000 free texts, however. If you don't want to receive texts through SendHub, check the box next to "Disable Incoming Messages." If you disable incoming messages, add an auto-response that will be sent to everyone who texts this number, something like, "This number does not accept texts. Email me at…"
When you're done with your changes, click the "Save" button at the bottom of the page.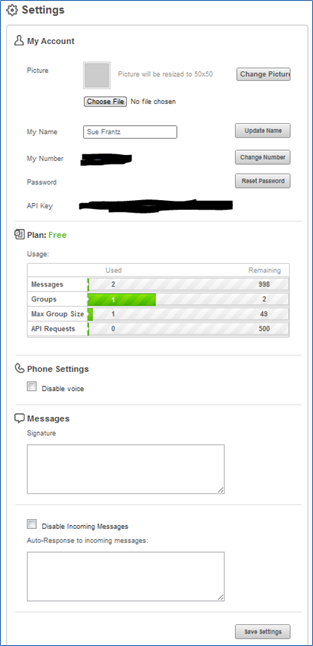 Are you using text messaging to communicate with your students? Why or why not?