I sometimes use my computer's desktop to store newly-created files or newly-downloaded files that I'm working on. On more than one occasion I have gotten home only to realize that the files I want are on my work desktop.
A solution comes to us from this Lifehacker blog post.
The author of the post goes so far as to sync both desktops. That's more than what I need. I just want to access the files on my work desktop from home.
The solution: Change the location of my work computer's desktop folder. (Did you know that what shows on your desktop is just stuff stored in a folder called "desktop"?)
First, in Dropbox, create a folder called "Desktop."
Next, on your work computer navigate to your "User" folder. To get there, go to your computer's hard drive, click on "Users," then your login name. The "Desktop" folder should be there.
Right click on the "Desktop" folder and select "Properties." Click on the "Location" tab. Click "Move," then navigate to the "Desktop" folder you created in your "Dropbox" folder. Click "Select Folder."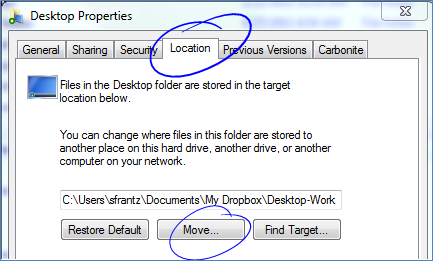 Done.
Anything saved on your work computer's desktop will now be available to you in the "Desktop" folder in Dropbox. Any file you add to that folder from, say, your home computer, will show on your work computer's desktop when you get back to the office. How cool is that?
*****
In other news, as of February 2012, Dropbox.com "adhere[s] to the US-EU Safe Harbor Framework and the US-Swiss Safe Harbor Framework." See this Dropbox.com blog post for more information.