Live blogging from EDUCAUSE's session on the Horizon Report. The Horizon Report "review[s] various emerging technologies likely to have a significant impact on teaching, learning, or creative expression over the next five years and highlight how institutions across the world are implementing these technologies."
View the audio recording, slides, and transcript. View the report and other resources on the Horizon Report wiki.
**********
Wrapping up.
The presenters encourage people to use the Horizon Report as a leaping off point for discussion on our campuses about emerging technologies and what we can do to prepare for and take advantage of those technologies. Much, much to think about.
11:20am
More trending technologies.
#5 – Gesture-based computing. Includes touch, such as touching a touch screen, and motion, such as Kinnect. Must be intuitive to use and the computer response to gesture must be pretty immediate.
Very useful for addressing accessibility issues.
#6 – Internet of things. These are objects that connect to the internet on their own. Google's driverless car is an example. Check out the Internet of Things Comic Book.
11:08 am
To learn more about learning analytics, visit the Society for Learning Analytics Research.
11:00am
More on learning analytics.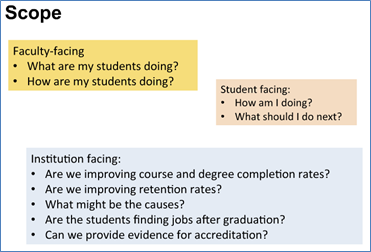 10:57am
More trending technologies.
#4 – Learning analytics. Both summative and formative. With formative analytics, can we make changes mid-stream to increase student success?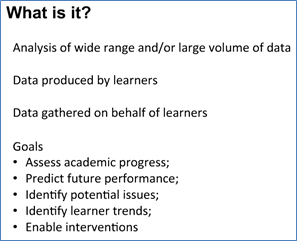 10:49am
More trending technologies.
#3 – Gamification of education. Check out this infographic.
10:41am
Trending technologies.
#1 – Mobile apps. Created by both educational institutions and private companies. "iPhone and Android have redefined what we mean by mobile computing."
What do students want in mobile technology? More content, more help in using it, streamlining access to the content.
#2 – Tablet computing. Tablets are being used by users to supplement smartphones, not replace them.
How are they being used? Digital textbooks, campus services apps, library navigation apps.
10:32am
What are the current trends in teaching and learning in higher education?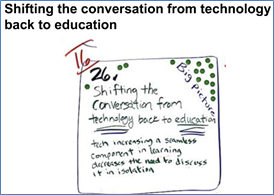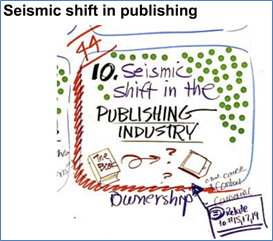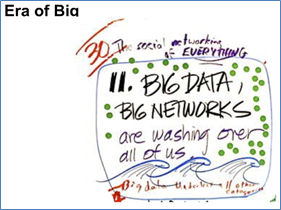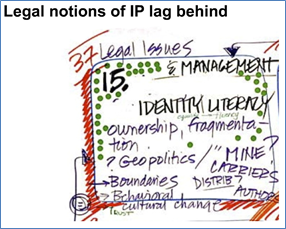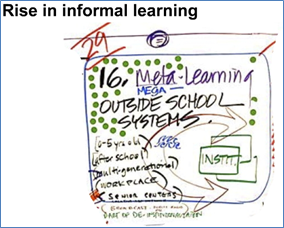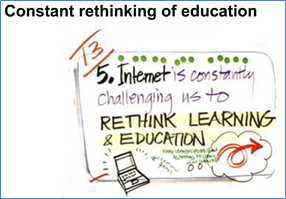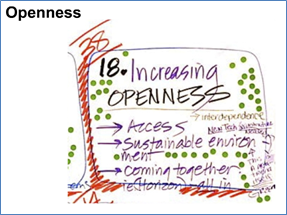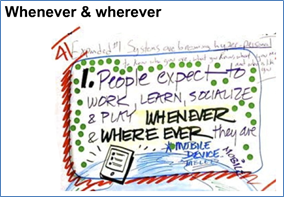 Drawings: David Sibbert, The Grove International