I've been writing about technology and education for almost two years now, and I thought I'd take some time to show you how I'm using these various tools on my website. Of course you're welcome to visit the live site and try them out.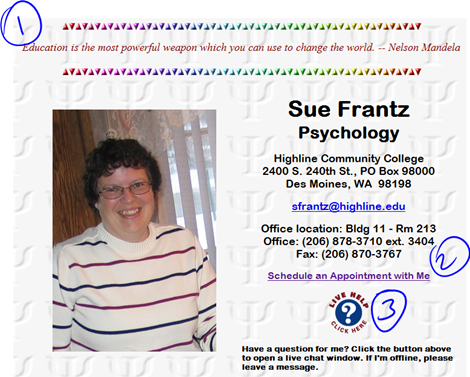 At the top of my main page, there's a quote. Every time you reload the page, another quote is chosen at random from the 25 I've selected. It's produced with a little javascript I got at JavaScript Source. I can't find the original there anymore, but you can find the same script I used and installation instructions here.
To schedule an appointment with me, follow the link which takes you to my YouCanBook.Me calendar. (See this post on using YouCanBook.Me.) My students make heavy use of this tool. It's been a real time saver for me. No more bandying emails back and forth trying to find a time when both myself and the student are available.

My college uses free instant messaging software called Spark. When I'm logged in, the "Live Help" button appears. Clicking it will call up a pop-up window that asks for your name, email address, and a place to enter your question. When you click the "start chat" button, Spark sends me your information, and asks me to accept or reject the request. If I accept, you get a chat window in your browser. If I reject, you're given the option to leave me a message. If I'm offline, this button appears.

If you see that I'm online, feel free to join me for a chat.

Scrolling down a little further on my main page calls up two RSSInclude boxes. (See

this post on RSSInclude

.) These widgets bring in RSS feeds. Any time something new is added to our department website or when APA updates PsycPort, the newest item is added to the top of the list and the bottom one drops off. Clicking on any of the titles takes you to the full news item.
Everything I have for my students is on my website. I'm not a fan of learning management systems (LMS). When I've used them, I felt really constrained by them, having to operate within their parameters. With my own website, I have free reign. Besides, I have a lot of resources on my website that I want students to be able to access even after they've left the course.
Next time I'll give you a tour of my Psych 100 course site.