Yesterday I wrote about a way others can upload a file to your Dropbox. (If you're not familiar with Dropbox, see this post.) Today I want to tell you how others can download files from your Dropbox without them having to have a Dropbox account.
When Dropbox is loaded on your computer, it automatically gives you a folder named 'Public.' Any file you put in this folder can be shared with others simply by getting the file's hyperlink.
To get the hyperlink, open the Public folder in Dropbox. Right click on the file you'd like others to download. Mouse over 'Dropbox,' then select 'Copy Public Link.'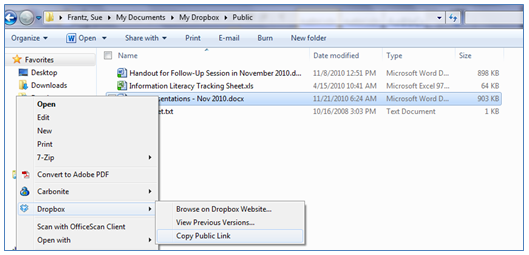 It will seem like nothing has happened, but your link has actually been copied to your computer's clipboard. Let's say you wanted to send the link in an email message. Open your email message and paste it into the body of the message. The hyperlink will appear.
I did a few tech presentations in November 2010, and here is the 4-page handout I gave the participants. You're welcome to download it from my Dropbox: http://dl.dropbox.com/u/261051/Tech%20Presentations%20-%20Nov%202010.docx. Just follow the link, and your browser will ask you what you'd like to do with the downloaded file.
If you download the file, you'll recognize several tech tools from this blog. You'll also see some you may not have heard of. All of them are slated to appear in this blog at some future point. Enjoy!