Earlier this week I posted information on how to use Zamzar.com to download YouTube videos. I've since had some inquiries from readers regarding downloading TED videos.
To download any video using Zamzar.com, you need to locate the video file itself. With the TED videos, this takes a little extra effort.
Go to the webpage that displays the TED video you want to download. Click the red share button below the video. Then click the copy button next to "embed this video."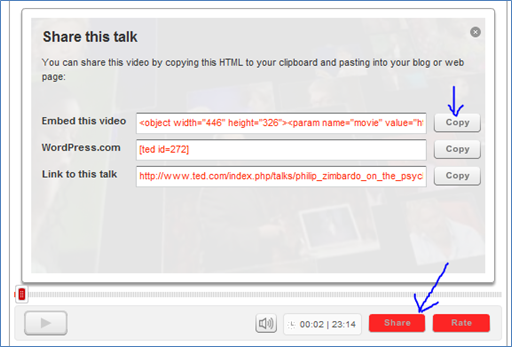 Open Word, or your email program, or anything that will let you paste and view a healthy chunk of text. After copying the 'embed this video' code, this is what I get when I paste it. Do not be frightened. If you wanted to put this video on your own webpage, say, inside your course management system, this code would do it. But since we want to download it, we only need to find one thing: The URL to the video file. You're looking for something with a video file extension, like avi, flv, mp4, or wmv. TED uses Flash video, so the extension will be flv.
<object width="446″ height="326″><param name="movie" value="http://video.ted.com/assets/player/swf/EmbedPlayer.swf"></param><param name="allowFullScreen" value="true" /><param name="allowScriptAccess" value="always"/><param name="wmode" value="transparent"></param><param name="bgColor" value="#ffffff"></param> <param name="flashvars" value="vu=http://video.ted.com/talks/dynamic/PhilZimbardo_2008-medium.flv&su=http://images.ted.com/images/ted/tedindex/embed-posters/PhilZimbardo-2008.embed_thumbnail.jpg&vw=432&vh=240&ap=0&ti=272&introDuration=15330&adDuration=4000&postAdDuration=830&adKeys=talk=philip_zimbardo_on_the_psychology_of_evil;[Remaining code deleted.]
To download this video, go to Zamzar.com, select the 'Download Videos' tab, and paste the highlighted URL above into step 1. Follow the rest of the steps, and the video will be downloaded to your computer to use when you're offline.