UPDATED 6/24/2012 
Zamzar received a cease and desist letter this month from Google, the new owners of YouTube.   Google pointed out that downloading YouTube videos violates YouTube's terms of service.  Read the letter.
Zamzar, a free online file conversion tool, has been around for a while. But just because it's been around doesn't mean that you know about it, right?
Zamzar lets you convert audio, image, document, video, and ebook files from one format to another format. I can envision many scenarios where you might want to do that, but I'm going to cover how you can download videos from a site such as YouTube. Instead of streaming the video from a website, you can download it to your computer. Once downloaded you can either open the video file on its own, or you can embed your video in your PowerPoint presentation. (PowerPoint also allows you to link to videos on the internet and stream live, but downloading videos is the way to go if are concerned about not having an internet connection in your classroom or are concerned about the video disappearing one day.)
How to do it.
When you visit Zamzar, you'll see this. It actually defaults to the 'Convert Files' tab. Since we're downloading a video from a website, select the 'Download Videos' tab.

Go to YouTube and find your video. Directly under the video screen, click the 'Share' button. The link to the video will appear. Copy it.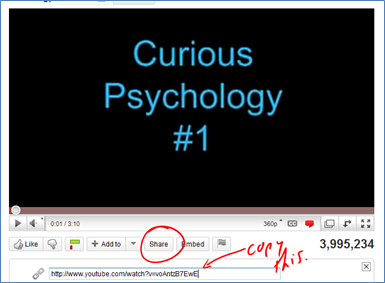 Paste it into the Step 1 box. In the Step 2 box, choose your file format. If you're planning on embedding the video in PowerPoint, choose wmv. [Note: PowerPoint 2010 can now handle more video file formats than it used to, but wmv is still a fine choice.] In Step 3, enter your email address, then click 'Convert.'

After uploading, you'll get this message.

Now you wait. In a few minutes, you will get an email from Zamzar. After inviting you to register the email will read something like this:

Following the link takes you to a webpage where you can download the file.

After downloading, save the file to whatever folder you'd like. That's it!