Anyone who does research writing needs a pdf and citation manager. I had been a fan of Mendeley until they were bought by Elsevier who changed the code in a way that made it no longer usable for me. Those issues may be fixed now, but it's too late. I've thrown my lot in with Zotero.
Every research writer needs a place to store and annotate their pdfs. Writers also need a way to quickly add properly formatted citations to a text. Zotero does both. Are you collaborating with a co-author? Zotero can handle your shared resources.
We would need a two-hour workshop to cover everything that Zotero can do. In this blog post, I won't cover everything. If you're a webinar kind of person, check out Zotero's free webinars. If you're a video tutorial kind of person, check out these community-created Zotero tutorials. For now, I want to show you how to get started with—and add references to—Zotero.
Getting started with Zotero

After installing Zotero, get the plugin for your preferred word processor: Word, LibreOffice, Google Docs. Next, add the Zotero Connector to your preferred web browser: Firefox, Chrome, Safari.
The plugin for your word processor will allow you to click a button to search and add a reference. The in-text citation will be added, and when you click the Zotero button to add the bibliography, all of the citations you've added to your paper will be properly formatted according to whatever citation style you select.
Adding reference items to Zotero

To add citations to a paper, you first need to get the citation information into your Zotero database. There are (at least) four ways to do it.
Zotero Connector—the add-in for your web browser—will allow you to save any webpage to your Zotero database. If you are in your library's database viewing an article, click the Zotero button in your web browser to automatically download the pdf to your computer, store it in your Zotero database, and pull the article's metadata into Zotero's bibliographic fields.
In this example, I found an article in my library's database and clicked the Zotero Connector icon in Chrome. I got a little pop-up asking me which of my Zotero folders I'd like to save the article to. I chose my Demo folder. There is no save button here; Zotero will handle the download on its own.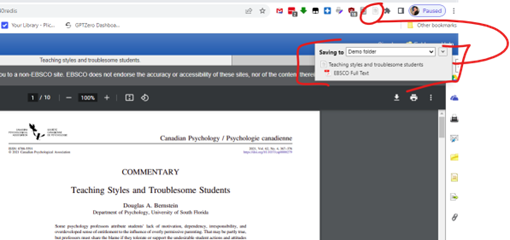 Over in Zotero, in my Demo folder is the article, including a full text pdf. Clicking on that pdf will open it in a new Zotero tab where I can add notes. All of the metadata from the pdf has been populated into Zotero's bibliographic fields. Always double-check these data. The most common issue is that some journals routinely capitalize every word in the title. If that happens, click on the title and edit the capitalization. When you're done editing, click off the field, and Zotero will save your changes.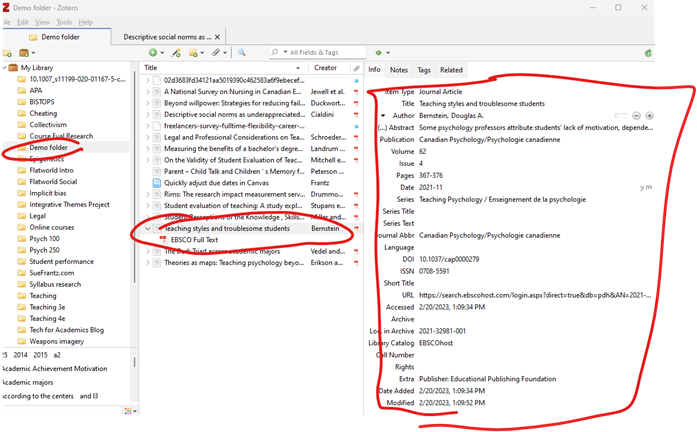 A second way to get a pdf into Zotero is to locate the pdf on computer and then click and drag it onto a Zotero folder. Any metadata in the pdf will automatically populate Zotero's bibliographic fields.
A third way to add bibliographic information is to use Zotero's magic wand—the "add item(s) by identifier" icon. Try this. Navigate to whichever Zotero folder you'd like to add an item to. Click on the magic wand icon, and copy/paste this doi: 10.1371/journal.pone.0280036

Zotero will automatically add the item with its bibliographic data to your folder. Zotero will also search for a pdf of the article. If it can find it, it will add the pdf to the item as it will in this case. If Zotero doesn't bring in the pdf automatically, right click on the item, and in the pop-up menu, you can ask Zotero to search for a pdf. If Zotero can't find a pdf, but you find one later, click and drag the pdf from your computer onto the item title in Zotero. Zotero will attach it to that entry.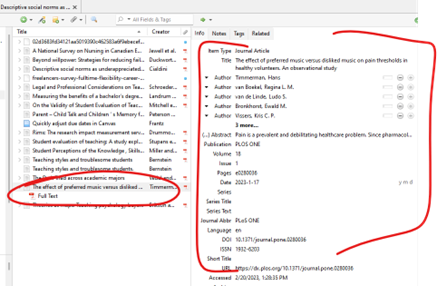 A fourth way to add an item to your Zotero folder is manually. Choose the Zotero folder you'd like to add the entry to, click Zotero's "add item" button, select the type of entry you'd like to add, and then fill in the fields.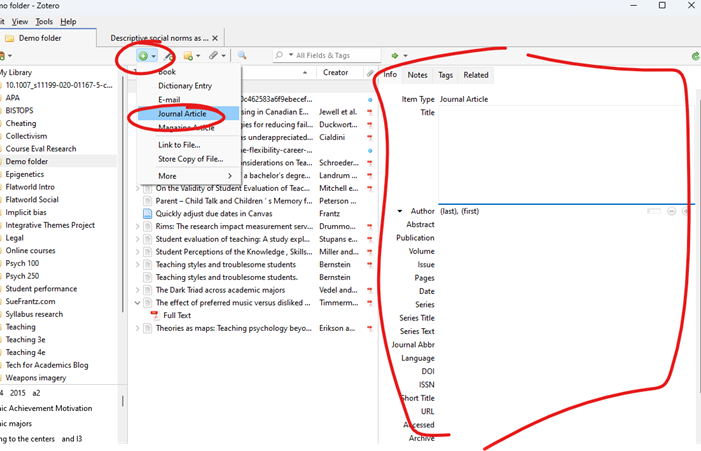 Adding citations to your paper

With the bibliographic information in (regardless of which four techniques I used), I can now use the Zotero "Add/Edit Citation" button in my word processor (Word, LibreOffice, Google Docs) to quickly add the citation to my research paper, then click the "Add/Edit Bibliography" to get all of the full references listed. If you notice an error in your reference list, go to Zotero and fix the bibliographic information for the item(s). Come back to your paper and click the "Refresh" button. The in-text citations and the reference list will be updated to reflect your changes.