The American Psychological Association recently created a browser toolbar for one of their constituencies: Psychology Teachers at Community Colleges. You can read a little about the toolbar and download it here. They used a free service called Conduit. You know me well enough by now that you can guess what I did. If you don't know me well enough, I gave it away in the title of this post. I created a toolbar for my class.
Why create a browser toolbar? Experts in behavioral change will tell you that the fewer barriers there are between yourself and a behavior, the more likely you are to engage in that behavior. Want to get those papers graded? Set them on your desk, or, if grading electronically, open them on your computer. Even if you don't grade them now, it will be easier to get started when you are ready. Want to snack less? Put more barriers between you and the snacks. For example, put the potato chips on the top shelf of your cupboard. And then padlock it. Then put the key in your office desk. You can eat the chips any time you want, but you're going to have to really want them to get through all of those barriers.
Want students to spend more time with your course? Give them a toolbar that stares them in the face whenever they open their browsers. (This works with all of the major browsers: Internet Explorer, Firefox, Safari, and Chrome.)
You can download my Psych 100 toolbar here.

What the toolbar does

Global toolbar controls. Users can do things like visit my class website (home page), remove the text from the toolbar and just use the icons (shrink toolbar), or clear search history.

Search box. Users can use Bing to do an internet search, or they can search for more specific content.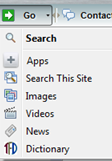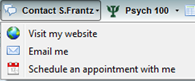 Contact information. The "Email me" link will open the user's default email program. "Schedule an appointment" sends the user to a page where clicking the "schedule an appointment" link will direct the user to my YouCanBook.Me calendar. (Blog post on using YouCanBook.Me.)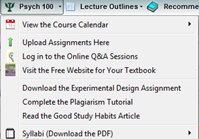 Psych 100. Here users can find the course calendar, upload their assignments, download syllabi, among other things. (Blog posts on creating a course calendar using Google calendar and using DropItTo.Me for uploading assignments directly to Dropbox.)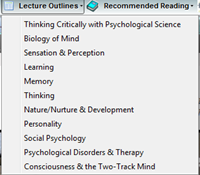 Lecture outlines. These links direct the user to the outlines I use in class.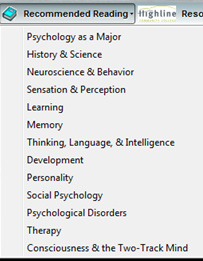 Recommended reading. These links send the user to my 'bookshelves' in my Google library.

Highline resources. Users have easy access to these Highline websites.
RSS feeds. Mousing over each of these links shows the most recent news content from each of these websites.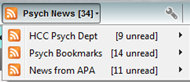 How to create a toolbar

Visit Conduit.com, click "join the network" to set up an account. Once you're logged in, click "Community Toolbar."

You'll see a large number of items you can add to your toolbar. My toolbar was created using two tools.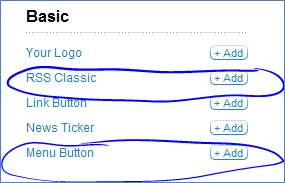 Click the "menu button" to create a dropdown menu. Almost everything in my toolbar was created this way, so I'm going to take the "Contact S. Frantz" dropdown menu as an example. Clicking "menu button" generates a webpage that gives you this.

Click "Your Menu" then click "Edit."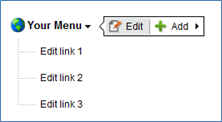 That will give you this pop up window. Type in the name of the menu, in this case "Contact S. Frantz." Anything typed in the "hint" box will appear when your user mouses over that section of the toolbar. I'm going to leave it empty. If you want your users to click on the toolbar button itself to go to a particular webpage, put the URL in here. Since there isn't any particular place I want to send a user, I'm also going to leave this blank.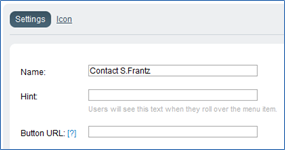 Next, click "Icon" to select an icon that will accompany the menu button. While there are 6 categories of icons to choose from I had a hard time finding icons that worked for me. Fortunately, Conduit makes it easy to upload your own icons. Click "Your icons" to upload new ones. The program seems willing to use any image you have in whatever format you have. I uploaded jpegs, and it took them just fine. Of course you can also leave the icon empty.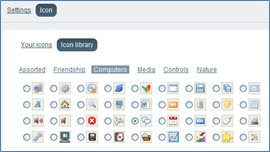 Clicking "save" will take you back to the original screen. Now click on "Edit link 1" to create the links in the dropdown menu. The process is the same. Enter the name of the link, the URL, add a mouse-over hint if you'd like, and finally add an icon if you'd like. Repeat for additional links. Rearrange links by clicking the "move up" or "move down" button.
Tip: To create a link that will open the user's email program with an email already addressed to you, in the URL box, enter mailto:your@email.edu.
If you'd like to add more links, or a submenu, or separators, mouse over the name of your menu, then mouse over "add."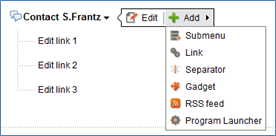 For example, the "Psych 100" button on my toolbar has two submenus. When you mouse-over the links with the arrows on the right, you get a fly-out menu. It also has 3 separators, the thin, recessed lines that separate the content into sections.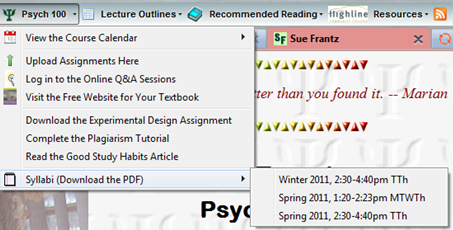 Repeat this process for each of the menu buttons you want to create.
Once your content is created, Conduit makes it easy to move or edit buttons. On the main page, you'll see your toolbar take shape. Mouse over a button, click and drag if you'd like to move it to a different space on the toolbar. Click "Edit" to edit that particular menu.

Analytics

Want to know how many people are using your toolbar or how they're using it? Click "Analytics."

After 2 days of being available, here's how my students have used my toolbar.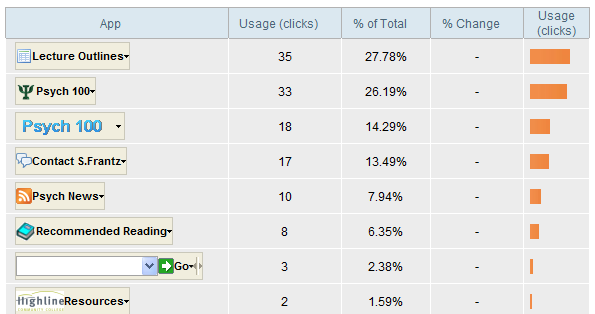 Creating additional toolbars

If you want to create toolbars for your other courses or for your department, log out of Conduit, and create a new account. You can use the same email address, but the login name needs to be different.
Uninstall the toolbar

"Internet Explorer users can uninstall Conduit Engine using the Add or Remove Programs function, and Firefox users can uninstall using the Tools > Add-ons menu in the browser" (Conduit FAQ).
What does your toolbar look like?

If you make a toolbar for your course or department, please add the download link to the comments for this post. I'd love to see what you've created!