It's been a few months since I posted, and I'm emerging from my technology sabbatical. Fall quarter is in full-swing; it's time to share what's new.
It's often the day-to-day kinds of activities where a little change can make a big difference. My focus in this post will be changing a default setting in Outlook that affects the order in which Outlook shows you messages.
Outlook assumes that you want to start reading the most recent message first. After deleting or filing the first message, Outlook takes you to an earlier message.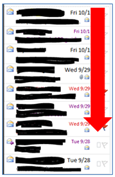 But that's not how I read my messages. I start with the earliest one I haven't read and then move forward in time toward the most recent message.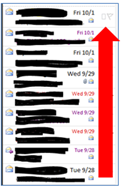 If I had no other mail in my inbox, it wouldn't be a problem. However, mail I haven't decided what to do with yet stays in my inbox until I have time to get to it. For instance, in the example I'm using, I may begin reading with the email marked with the arrow below.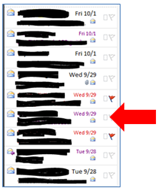 After I delete or file that message, Outlook automatically takes me to the message below it. But I've already read that message. I want to move to the one above it. To do that, I have to use the arrow keys or the mouse to navigate. Or I can change Outlook's default setting so that it moves up instead of down.
In Outlook, go to the File tab and select Options. Click Mail. Scroll down to the very bottom of the screen. In the dropdown menu, select "open the previous item."

Click OK.
Now when you delete or file email messages, Outlook will automatically advance to the next most recent item.